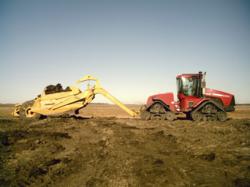 "This means our scrapers do not get clogged up with mud, sod or other materials."
Comstock, MN (PRWEB) June 14, 2012
Nelson EZ Pull, which custom makes direct-mount towed scrapers, announced this week that it will be expanding its capabilities to meet the needs of large farm operators and earth-moving contractors.
"In the past, we specialized in converting industrial grade scrapers such as Fiat-Allis and Allis-Chalmers, Caterpillar and LeTourneau into direct-mount pull-type scrapers between 18 cubic yards and 27 cubic years. Now we are offering the conversion of larger units up to 30 and 35 cubic yards," said Clifford Nelson, the firm's owner.
"Because we modify heavy duty scrapers such as the Allis-Chalmers 460, our machines can unload the toughest loads, with the gate rising to a position about three feet above the top of the bowl, providing unrestricted ejection capabilities," Nelson said.
"This means our scrapers do not get clogged up with mud, sod or other materials. Sod is dumped with ease because blade elevation capabilities provide optimum ground clearance."
He said at the customer's request they also can add two tires to the rear, which improves floatation, eliminates rocking and provides better operation in wet or soft-earth areas.
With its manufacturing facility located in Comstock, Minnesota, the company is expanding its product line to reach earth-moving contractors who need a dependable and efficient scraper for site preparation and road building, as well as to farm operators for earth-leveling and ditching, at considerably less cost than its competitors, such as Ashland, ICON, K-tec, Caterpillar and John Deere, he said.
In addition to Clifford Nelson, the firm is staffed by his son Mike, an expert welder, and other employees. So far they have converted over 1,600 units, selling throughout the Midwest, including North Dakota, South Dakota, Minnesota, Iowa and Montana.
"We're not one of the big boys," Nelson said, "but in quality of machine and price, we are quite competitive."
The advantage his units have over four-wheel or dolly scrapers, as well as motor-scrapers, are manifold, Nelson claims:
"Because the weight is directly on the axel, as the weight increases, so does the traction. The scraper can be filled to capacity even under wet conditions and wheel slippage is greatly reduced. Because the scraper's front wheels are gone, there is less rolling resistance and a driver can see how deep the blade is cutting. Directly mounted, it can be easily backed into hard-to-reach areas."
The end product is like new, he said, with new tires, blade, paint, hydraulic ejector system and bearings, where needed.
Since Nelson EZ Pull converts four-wheel and motor scrapers, the firm has a wide variety of good used parts. It is also interested in purchasing used four-wheel and motor scrapers for its conversion business.
For more information visit Nelson EZ Pull online at http://www.nelsonezpull.com, or call Cliff Nelson at 701-205-1194 (land line) or 701-351-4007 (cell) or leave a message. The company's address is 1939 160th Avenue South, PO Box 21, Comstock MN 56525.
# # #
To Editor: Photos, including high resolution images, available online at http://www.nelsonezpull.com and may be used for publication. For more information contact Cliff Nelson at 701-205-1194 or 701-351-4007 (cell) or email James Horsley at: jahorsley(at)yahoo(dot)com.