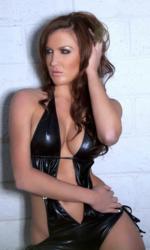 I am very happy to have Pamela join our team. She has had success not only in the MMA world, but in everything she sets out to do.-Brett Roberts, BAMMA USA CEO
Santa Ana, CA (PRWEB) June 13, 2012
Starting at a young age, Pamela discovered a taste for the limelight on a TV show, and as they say, the rest is history. While balancing education with acting and singing through her high school and college years, Miss Noble found success in short films, national commercials, and performing at the famous House of Blues in Hollywood, CA. Pamela also had a recurring role on Fuel TV's The Daily Habit. After a make-up artist suggested she try modeling, Pamela did one photo shoot and a new passion cultivated entirely.
Miss Noble has been featured in multiple ad campaigns, which include Sullen Clothing, O'Neal MX, Skin Industries, FHM Slovenia, Fresh Peaches Swimwear, and the Mixed Martial Arts clothing companies TapouT and Jaco.
Pamela Jean Noble has an in-depth background in the MMA world and industry. Along with a Bachelor's of Science Degree in Kinesiology from California State University San Bernardino, she is also a black belt in Tae Kwon Do. Pamela has been featured in numerous MMA magazines including Fighter's Only International, MMA Worldwide and TapouT Magazine. Miss Noble holds the title 'Ms. TapouT Magazine June 2011'. Pamela and the BAMMA USA Ring Girls are currently featured in the latest issue of TapouT Magazine for their winning efforts in the 2012 Los Angeles Fit Expo Ring Girl Competition.
In addition to being a ring card girl for several local fight companies in California and Nevada, Miss Noble has also conducted interviews with MMA fighters and personalities on the red carpet at the annual MMA Awards. One media outlet described Pamela Jean Noble as 'driven, beautiful, intelligent, and a personality to match.'
BAMMA USA CEO Brett Roberts made the following comments regarding the addition of Pamela Jean Noble: "Pamela has been a long time friend of mine. We have worked on-and-off the past couple years at events like the LA Fit Expo, OC Auto Show, and Magic Trade Show. I am very happy to have Pamela join our team. She has had success not only in the MMA world, but in everything she sets out to do. Her drive and passion are a benefit to BAMMA USA."
See Miss Noble in action on Friday, July 13, 2012 at the world famous Commerce Casino in Commerce, CA for BAMMA USA's Badbeat 6, presented by Budweiser. To learn more about Pamela Jean Noble, you can visit her Official Website at http://www.pamelajeannoble.net or by visiting http://www.BammaUSA.com
Ticket prices for Badbeat 6 range from $60 to $150. Online ticket orders available through TicketForce. Please contact BAMMA USA for VIP Table opportunities, by calling 714.912.8822 or visiting http://www.BammaUSA.com
In response to its growing national and international fan base, BAMMA USA will broadcast Badbeat 6 live on the internet via Livestream's upgraded platform New Livestream. Internet viewers will be asked to join New Livestream directly or sign in through their Facebook account to enjoy the free telecast**.
**=Blackout restrictions will apply locally
Badbeat 6 presented by Budweiser
Friday, July 13, 2012
Commerce Casino
6131 Telegraph Road
Commerce, CA 90040
Doors open at 6:00pm
First fight at 7:00pm
Main Card*
Main Event- 155 lbs: Scott Catlin (8-5) vs. Bill Cooper (3-1)
Co-Main Event- 155 lbs: Mike Guymon (13-5-1) vs. Mike Dizak (5-4)
135 lbs: Chris Beal (5-0) vs. Kana Hyatt (10-10)
150 lbs: Tom Gloudeman (6-1) vs. Steve Magdaleno (8-3)
185 lbs: Mike Jasper (3-0) vs. Manny Murillo (4-0)
Preliminary Card*
205 lbs: Mychal Clark (9-12) vs. Mike Smith (0-1)
135 lbs: Jose Morales (4-7) vs. Jimmy Jones (4-1)
145 lbs: Musa Toliver (10-7) vs. Shad Smith (12-15)
155 lbs: Vince Ortiz (8-8) vs. Chris Culley (13-15)
155 lbs: Eric Brown (2-2) vs. Jay Bogan (2-2)
155 lbs: Eric Winston (2-0) vs. Max Ceniceros (1-2)
155 lbs: Jason Manly (1-0) vs. Jorge Valdez (4-1)
170 lbs: Teshawn Walls (1-1) vs. Tony Stewart (0-0)
*=Fight Card Subject To Change
About BAMMA USA
BAMMA USA is a Mixed Martial Arts (MMA) promotional company specializing in creating live entertainment featuring both professional and amateur combatants. Currently stationed out of Southern California, BAMMA USA promotes the area's top local talent from mixed martial arts gyms such as CSW, Knuckleheadz Boxing & MMA, Elite MMA, Kings MMA, PKG, Joker's MMA/Lightning MMA, The Bodyshop, Reign Training Center, Total MMA Studios, Ace Jiu-Jitsu, Cobra Kai, Gracie Morumbi, Cesar Gracie Jiu-Jitsu Academy, The Arena, Subfighter MMA, as well as many others. BAMMA USA is Southern California's leading mixed martial arts (MMA) organization providing the area with events monthly and opportunities to professional and amateur athletes.
Past and current fighters who have worked with BAMMA USA founder Brett Roberts include: Mike 'Joker' Guymon, Vladimir 'The Janitor' Matyushenko, Joseph 'Leonidas' Henle, Georgi Karakhanyan, Gabe 'Godzilla' Ruediger, Jason Lambert, Chad 'The Savage' George, Albert Rios, 'The Real Deal' Chris Beal, Jack 'The Outlaw' May, Jared 'The Jackhammer' Papazian, and more…
While the promotion prides themselves on their motto: "Keep Moving Forward" the ultimate passion for BAMMA USA is to create an environment in which fighters are truly valued.
Personal Contact Information
CEO
Brett Roberts
info(at)BammaUSA(dot)com
714.912.8822
About TicketForce
TicketForce utilizes a powerful web-based ticketing system to provide venues, promoters, festivals, arenas and civic centers with a fully-customizable solution for full-service ticketing and box office management. TicketForce provides a complete suite of scalable products and services, including EasyTix – offering low, fixed fees, free call center support, and no equipment costs with minimum sales. Sales at http://www.myeasytix.com. All solutions include print-at-home ticketing, electronic will-call, access control, payment processing, management tools, and real-time reporting. More information is available at http://www.ticketforce.com and http://www.myeasytix.com
About Livestream
Livestream is the market leader for live event coverage. With simple to use technology, our service allows anyone to broadcast live to the web, as well as being the top destination for live content from around the world. Our clients include Facebook, The New York Times, ABC News, CBS News, Associated Press, HBO, AT&T, PepsiCo, Electronic Arts, Adidas, The Academy Awards, Warner Bros. Records, and Paramount Pictures.
Livestream operates with over 120 full-time staff members in 4 offices—in New York (headquarters), Los Angeles, Bangalore, and the Ukraine. The service is available for free (advertising-supported) or as a feature-rich, monetizable, premium service for business.
The New Livestream is an innovative new platform that combines live video with real-time photos, text, and video clip updates. The technology supports live blogging all executed with ease using the real-time posting tools from both mobile and the web. Features on the New Livestream include an improved video player and an array of new tools that allow more people to discover your event, interact with it and share it across the web.
http://new.livestream.com