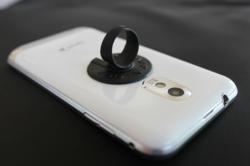 Tamap,FL (PRWEB) June 14, 2012
A recent survey found 75% of Americans who own a smartphone use it while on the toilet. The number jumps up to 91% for those between the ages of 28 and 35.
The survey done by the marketing agency 11mark really flushed out the information and also found approximately a quarter of Americans say they won't even go to the bathroom without their electronic device.
But the phones are being used for more than just supplying reading material, the survey found 63% answered calls on their smartphone while going to the bathroom and 16% in that 28-to-35 age bracket have made purchases while on the toilet.
The numbers don't surprise Bryan Karle, the co-inventor of SnapALoop.
Karle admits he's even done something a lot of others refuse to talk about; he's dropped his phone in the toilet. As embarrassing as that may sound, Karle knows he's not alone.
However Karle's invention ensures cell phone and smartphone users will never drop their mobile devices again, no matter where they are.
He says SnapALoop simply attaches to the back of any mobile device and features a loop for users to slide their finger through to so the object doesn't fall out of their hand. Karle also points out SnapALoop's ring, which is made from a soft flexible plastic also swivels 360-degrees for greater comfort.
"The survey shows just how much smartphones have been integrated into our lives and who wants to go through the hassle of having to repair or replace a $200, $300 or $400 phone because of an accident in the bathroom?" Karle said.
He adds using SnapALoop now gives him peace of mind while using his smartphone and who doesn't want that, especially in the bathroom?
SnapALoop is sold online through the company's website SnapALoop.com for $9.95.