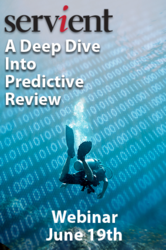 Houston, Texas (PRWEB) June 13, 2012
Servient, a leader in e-discovery technology who's Predictive Review process combines advanced machine learning with attorney review, has announced that it will be hosting a complimentary industry trends webinar - "A Deep Dive Into Predictive Review" on Tuesday, June 19th at 3:30 p.m. EDT. Registration information for the event can be found at Servient.com. There is no charge for the event, but attendance is limited.
"The courts now recognize the practical advantages of leveraging predictive technology in e-discovery," said Ian J. Wilson, Founder and CEO of Servient. "This webinar will take a deeper look at how to implement defensible case strategies using machine learning and statistical sampling," Wilson added. Mr. Wilson will serve as the event's moderator and joining him, as panelists will be Arthur S. Linker, Partner, Katten Muchin Rosenman, LLP and Gregory S. Kaufmann, Partner, Sutherland, LLP.
The webinar will consist of three segments. In the first segment a review of recent case law involving the use of technology assisted review will highlight facts critical to understanding the rationale for using it and dispel misconceptions about its use and efficacy. The second segment will provide an overview of a case study that will present practical strategies in applying Predictive Review in a regulatory setting.
The third segment of the presentation will detail the protocols to start the review process quickly and intelligently without introducing user bias. This segment will also provide a detailed explanation of what statistical measures should be monitored throughout the review process and the protocols to determine when to stop the review by using statistical sampling.
About Servient:
Servient provides advanced electronic discovery technology solutions to leading law firms, Fortune 1000 corporations and government agencies. Servient's Predictive Review combines advanced machine learning technology with attorney review. Servient actively learns from the document decisions made by the legal team during legal review and separates the relevant documents from the irrelevant material. Servient has offices in Houston and Austin, Texas; Washington, D.C.; Richmond, Va.; Philadelphia; Los Angeles, New York City; and Pune, India. For more information about Servient, please visit http://www.servient.com.