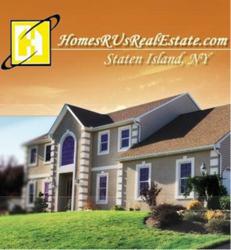 Garry Papirov and Josef Tsomik have been named the number one and two best agents in Staten Island
Brooklyn, NY (PRWEB) June 13, 2012
Ezgobz and Homes-R-Us have teamed up in order to create a fresh new marketing campaign for the Staten Island Real Estate Agency. Known for being innovative and resourceful, Ezgobz plans to create an all-new image for the company for 2012. This new media campaign will focus on increasing brand recognition as well as providing media buying services in order to increase Homes-R-Us'local presence. Ezgobz will also be leading the rebranding of the company over the coming year.
Homes-R-Us is a leader in Staten Island real estate, specializing in residential and commercial properties, land development, real estate investments and renting. Homes-R-Us is dedicated to providing its clients with friendly, professional service in order to ensure complete satisfaction. Homes-R-Us has a fantastic staff , two agents Gary Papirov and Joseph Tsomik have been named the number one and two best agents in Staten Island out of over 2,000 agents on the Island.
The Tsomik and Papirov team, who continuously individually rank as one of the top five real estate agents on Staten Island, show no sign of slowing down, and both are slated to receive the 2012 SIBOR. Top Producer Gold Award, given to the top-selling agents in the borough.
The partnership between Ezgobz and Homes-R-Us will firmly establish Homes-R-Us as Staten Island's premier Real Estate Agency by increasing their visibility in local media. Streamlining the company's public image will make Homes-R-Us even more accessible and effective.
About Ezgobz:
Ezgobz, established in 2011, is an innovative marketing firm based in Brooklyn, NY. Guided by an innate understanding of the latest marketing trends, Ezgobz specializes in building up brand awareness and maintaining strong online presences for small businesses. To learn more about Ezgobz, please visit http://www.Ezgobz.com