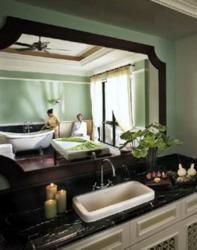 While online appointment bookings and physician consultations are fast becoming commonplace, it's only the beginning.
Chapel Hill, NC (PRWEB) June 14, 2012
Josef Woodman, CEO of Patients Beyond Borders, has been selected to moderate a panel discussion during the General Session of the Well-Being and Medical Travel Conference on Thursday, June 21st, 11:15 AM – 11:45 AM, at the Phoenician Resort in Scottsdale, AZ. The session, entitled "Destinations Specializing in Global Care," will feature renowned global medical travel experts: Dr. Mary Wong, CEO of the Malaysia Healthcare Travel Council; Phil Sung, Deputy Director with the Korea Tourism Organization; Peggy Peterka, Marketing Manager with the Tourism Authority of Thailand; and Annice Park, Director of the Seoul National University Hospital USA Office.
Hundreds of participants from around the globe are expected to attend the event, including key representatives from medical facilities, clinics, spa/wellness facilities, insurance companies, tourist boards, travel agencies, and travel providers. The conference, sponsored by Well-Being Travel and Travel Market Report, will place medical representatives face-to-face with established travel sellers who already have clients traveling around the world on health-related spa and wellness trips.
Woodman will also deliver a session entitled "Consumerism of the International Patient Experience and Opportunities for the Travel Sector," slated for Thursday, June 21st, which will explore how the rise of new technology-driven consumer models in finance, shopping, and travel have spawned new behaviors in healthcare. "While online appointment bookings and physician consultations are fast becoming commonplace, it's only the beginning, says Woodman. "The merging of medical and travel experiences through the increased popularity of discounted offerings and custom packages for medical procedures and wellness programs is quickly becoming the new face of medical tourism."
As the author of Patients Beyond Borders, Woodman spent more than six years touring 150 medical facilities in 30 countries, researching contemporary medical tourism. The cofounder of MyDailyHealth and Ventana Communications, with a pioneering background in health, wellness, and Web technology, Woodman has compiled a wealth of information about global health travel, telemedicine, and new developments in consumer and institutional medical care. He has lectured at the UCLA School of Public Health, Harvard Medical School, and Duke Fuqua School of Business, and has chaired and keynoted conferences on medical tourism and global healthcare in 14 countries. Woodman has emerged as an outspoken advocate of global consumer healthcare and medical travel.
About Well-Being Travel
Well-Being Travel is part of the American Marketing Group family of companies. American Marketing Group now has 19 brands, and TRAVELSAVERS is in 26 countries. Well-Being Travel has also partnered with Companion Global Healthcare and leading travel agents around the world to expertly manage the medical travel needs of the healthcare consumer.
Denise Caiazzo, VP Communications
Tel: +1 845 429.7983
Email: DCaiazzo(at)travelsavers(dot0com
Web: http://www.well-beingtravel.com
About Patients Beyond Borders
Patients Beyond Borders, based in Chapel Hill, NC, publishes books, eBooks, video, online, mobile, and social networking information and applications for healthcare consumers seeking the best global options in medical care. Its flagship international title, Patients Beyond Borders, soon to be published in its Third Edition, is the world's leading consumer reference guide for medical tourism. Country Editions, City Editions, and Facility Editions help healthcare consumers make informed choices in searching, vetting, and obtaining safe, high-quality, affordable healthcare around the world.
For more information or media queries, please contact:
Judy Orchard, communications manager
Tel: +1 919 924.0636
Email: jorchard(at)patientsbeyondborders(dot)com
Web: http://www.patientsbeyondborders.com
Note: Qualified members of the media are invited to request a review copy of Patients Beyond Borders: Second Edition or any other title from our library. Please contact jorchard(at)patientsbeyondborders(dot)com.