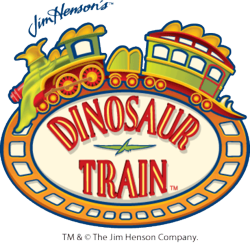 Bryson City, NC (PRWEB) June 15, 2012
DINOSAUR TRAIN™ is an Emmy-nominated and Parents' Choice Silver Honor TV series, and it consistently ranks in the top ten shows for kid's ages 2 to 5. In the TV series, young viewers join Buddy and his adoptive family of Pteranodons on whimsical adventures through prehistoric jungles, swamps, volcanoes and oceans. For this event, families will take a ride on a real train bound for the Nature Trackers Adventure Area where young guests will participate in a series of fun and educational challenges as they unearth basic concepts in natural science, natural history and paleontology. Also included are music, children's activities, Dinosaur Train merchandise and an opportunity to meet your favorite T.rex, Buddy.
Great Smoky Mountains Railroad joins only two other railroads nationwide in 2012 for this officially licensed event. The Dinosaur Train schedule is as follows: July 20-22, 27-29 & Aug 4 & 5.
Tickets are on sale now and start at $39 per adult and $30 per child (ages 2-12). Crown Class tickets are available on a limited basis and are $59 per adult and $40 per child (ages 2-12). For tickets and event information, call the Great Smoky Mountains Railroad at 800-872-4681 or visit http://www.gsmr.com
Be sure to make your reservations now as these trains are expected to sell out.
About Dinosaur Train
Created by Craig Bartlett, DINOSAUR TRAIN airs on PBS KIDS® (check local listings), and embraces and celebrates the fascination that preschoolers have with both dinosaurs and trains while encouraging basic scientific and thinking skills. DINOSAUR TRAIN is produced by The Jim Henson Company and co-produced with Singapore animation company Sparky Animation with participation and assistance of the Singapore Media Development Authority. UK production and financial support is provided by Ingenious Media.
About The Jim Henson Company
The Jim Henson Company has remained an established leader in family entertainment for over 50 years and is recognized worldwide as an innovator in puppetry, animatronics and digital animation. Best known as creators of the world famous Muppets, Henson has received over 50 Emmy Awards and nine Grammy Awards. Recent credits include the Emmy® nominated "Sid the Science Kid," "Dinosaur Train," "Wilson & Ditch: Digging America" and "Pajanimals." Features include "The Dark Crystal," "Labyrinth," "MirrorMask," and "Unstable Fables" and television productions include "Fraggle Rock" and the sci-fi cult series "Farscape."
With additional locations in New York and London, The Jim Henson Company is headquartered in Los Angeles on the historic Charlie Chaplin lot, complete with soundstage and postproduction facilities. Independently owned and operated by the five adult children of founder Jim Henson, the Company is also home to Jim Henson's Creature Shop™, a pre-eminent character-building and visual effects group with international film, television and advertising clients, as well as Henson Recording Studios, one of the music industry's top recording facilities known for its world-class blend of state-of-the-art and vintage equipment. The Company's Henson Alternative brand has recently launched the national tour of "Stuffed and Unstrung," a live puppet improvisational show named one of the top 10 "Best Stage Shows of 2010" by Entertainment Weekly. henson.com; facebook.com/hensoncompany; twitter.com/hensoncompany.
About Rail Events, Inc.
Rail Events, Inc., a subsidiary of American Heritage Railways, has a successful track record in special events licensing, merchandising and coordinating THE POLAR EXPRESS ™ Train Ride, PEANUTS™ The Great Pumpkin Patch Express, and The Lone Ranger® Train Ride. With this comprehensive lineup, it is easy to see why Rail Events, Inc. is the nation's leader in providing licensed events to the tourist railroad and museum industry.