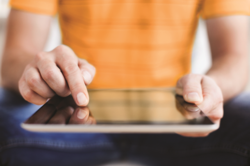 The single-app lock-down in iOS6 that education is touting is still in question
Nashville, TN (PRWEB) June 14, 2012
Today RANDA Solutions publicly acknowledged their patent-pending mobile assessment apps have been developed since late 2010. The benefit of RANDA's mobile solution is not to merely move from paper to virtual formative and summative assessments, but to acquire formative data and provide educators snapshots "on-the-fly". Their mobile assessment approach allows educators to adjust course or modify their teaching approach for more effective instruction of specific classes or students.
With the new Apple iOS6 announcement, RANDA is in open discussions with schools to discuss further pilot studies and bring their solution to market.
"Actually, we developed our mobile assessment tools and submitted patent applications well before our successful teacher observation solution – and before the first iPads were released to the public," says Marty Reed, RANDA's CEO. "Once iPads were released and we could perform initial pilots, we recognized the two primary roadblocks at that time were the inability to 'lock down' the iPad and the market's ability to receive it." As a consequence, Reed led the RANDA team in modifying their development plan to forge TOWER, a rubric-agnostic mobile teacher observation system, based on their education expertise and a reworking of their application framework.
"The single-app lock-down in iOS6 that education is touting is still in question," says RANDA Chief Strategy Officer, Randall Dennis. "Our sources in Apple indicate the single-app function is not yet a part of the current Guided Access feature set." Nevertheless, due to market inquiries RANDA determined to make their mobile assessment app development public.
RANDA Solutions is an INC. 500 software firm based in Nashville, TN serving the education sector. RANDA acquires, manages and utilizes data providing administrators and teachers a variety of education intelligence: Student Data (student identification, student demographics, summative and formative assessments, student growth, course completion, and college readiness), Educator Data (educator identification, educator demographics, professional development/continuing education, teacher student data link, value added assessment alignment, and teacher effectiveness), and Third-party Data (community demographics, school climate, early warning data, etc.). Historical and live data reporting, along with additional customized content, is delivered via RANDA's secure web portals and integrates seamlessly with RANDA's cross-platform mobile applications for iPads and Android devices.