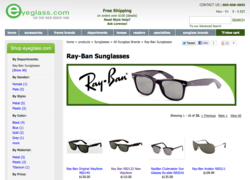 When buying prescription sunglasses don't pay for unnecessary options.
Sarasota, FL (PRWEB) June 14, 2012
Prescription Sunglasses are a mix of fashion and health - safety and fun. From a medical standpoint, it is important to block the part of the light spectrum that can be harmful. Evidence correlates UV exposure to cataracts, macular degeneration, and other eye health issues. The good news is that certain lenses and coatings block portions of the light spectrum. Understanding what the choices are can protect eyesight and save money.
Light is measured in nanometers, for example, the visible spectrum is between 390 and 750 nanometers. The portion of the spectrum that can be most harmful is UVA 320-400 nanometers. Much of the harmful light is not visible to the human eye, but can still cause serious harm. When nonprescription sunglass lenses are marked UV 400 that means they block up to 400 nm and are safe to wear. A question often asked at eyeglass.com is, "How do you know when sunglasses for glasses block harmful UV light?" according to founder Jim Morrison.
Here is a trick, wear sunglasses with polycarbonate (poly) lenses, the material automatically blocks the dangerous spectrum. No coating needed. If a patient is charged extra for UV coating on poly lenses it is unnecessary. It would be like ordering a sandwich and being charged extra for the bread. Similarly, polycarbonate lenses are impact resistant without any further treatment. In fact, several states require opticians to use polycarbonate lenses for sports and children under 18.
Another trick with poly lenses is that they automatically come with a scratch coating, so don't pay extra for that either. Poly lenses are also thinner than standard lenses. So, why don't all Rx sunglasses lenses come with polycarbonate? Although poly has a scratch coating they are still not as scratch resistant as standard plastic and poly is more expensive to make and harder to process. Poly may not be the best lens material choice for wearers who are not so careful with their glasses. And one more detail, poly lenses don't have the same visual clarity as standard plastic lenses. This last point is somewhat subjective. According to eyeglass.com's licensed optician, Lorenzo Rodgers of Bay View Opticians, "The science is real, poly doesn't have the better light transmission, but most people can not tell the difference. That being said, if you are sensitive and notice slight vision changes, avoid polycarbonate lenses."
Poly has UV blocking, thinness, impact resistant, and scratch coating included. The negative is that poly is still scratch prone, more expensive, and has lower visual clarity than other plastic or glass lenses.
Just when a buyer thought they could translate glasses lingo, another term pops up - anti-reflective coating. What once seemed like a cosmetic option is now considered a wise, medical choice. AR coating on a sun lens, especially on the backside of the lens, reduces UV exposure by keeping unfiltered light from bouncing off the back lens and into a person's eyes. Additionally, backside anti-reflective coating helps with enhancing visual clarity.
When it comes to tinted lenses the color does make a difference. Grey colored lenses have the least effect on natural color, brown sun lenses are soothing and yellow does not shade much but helps with contrast and is therefore good for sports sunglasses.
For most people, when shopping for prescription sunglasses ask for polycarbonate sun lenses with an anti-reflective coating and receive the best overall value. A good pair of sunglasses with the right lenses, dispensed by an experienced optician, feels good, looks good and is good for everyone. Of course a cool pair of prescription Ray Ban sunglasses can help with one's love life too. Sunshine enjoyed! Next time: we explore the two sides of polarization!