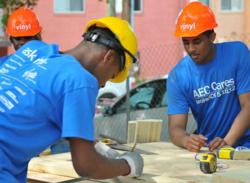 We want to find meaningful ways to help the communities in which we live and work.
(PRWEB) June 14, 2012
On May 16, 2012, Reed Construction Data and Hanley Wood, the partners of AEC Cares, and a team of 150+ volunteers donned hard hats and rolled up their sleeves to join forces with Sasha Bruce Youthwork students for a one-day "blitz build" project to turn an abandoned building into a home for young people working to help themselves succeed.
Sasha Bruce Youthwork is a Washington, D.C.-based non-profit with an outstanding history of helping homeless and at-risk youths who want to remain in school and develop skills for their futures. Concentrating on 16-21 year olds, SBY gives the young people life skills and training; equally important, it gives them a safe place to stay, so they can remain in school and move forward positively.
AEC Cares, a partnership of Reed Construction Data and Hanley Wood, began during a discussion about the AIA national convention, an event attended by thousands of architects and construction industry professionals.
"We want to find meaningful ways to help the communities in which we live and work, and the annual AIA conventions are an opportunity to pull together industry professionals for a new project in a different community every year," stated Iain Melville, CEO, Reed Construction Data. "Every community has a unique need, and although we cannot completely erase that need, we certainly can make a positive difference while we are there."
In researching a project for 2012, Reed Construction Data was introduced by Keri-Lynn Coleman of Collaborative Planning Group to Sasha Bruce Youthwork.
"We had been looking for a way to turn a donated Marshall Heights structure into a home for eight young people," stated Jim Beck, Director of Development, Sasha Bruce Youthwork. "When the people of Reed Construction Data approached us about helping with a project, we immediately thought of the building on D Street."
After considerable planning, and with generous monetary, materials and service donations from building product manufacturers, the one-day "blitz build" began. Over 150 volunteers, including industry professionals and SBY students, reported to the house to make as much progress as possible in one day.
The event attracted many honorable dignitaries:

Mayor Vincent C. Gray of the District of Columbia, a strong advocate for young people, thanked all who came together to make a difference
Wendy Spencer, CEO, Corporation for National & Community Service, appeared at the request of President Obama and the First Lady to praise the collaboration of public private partnerships with the non-profit Sasha Bruce organization
Mike Waldinger, Executive Director, AIA, Illinois, with 2012 AIA President Jeff Potter, and 2013 AIA President-elect Mickey Jacob thanked the group for working to build opportunity within the community
Deborah Shore, Executive Director and Founder of Sasha Bruce Youthwork, thanked the organizers, participants and volunteers and introduced two program success stories: Jasmine Williams, a well-spoken young SBY student-turned-SBY-employee, who discussed the value the house will have in providing a home, skills, sense of family and belonging; and Michael Jackson, an SBY trainee, who gave an equally touching speech, praising SBY for helping him gain skills to get away from the streets. Michael will be receiving his high school diploma this month.
While the house is not yet complete, AEC Cares, the volunteers, sponsors and SBY students made exceptional progress. Expected completion is July, 2012.
"I've been working in the nonprofit sector for over two decades, and never before have I seen such an excellent example of for-profit businesses working hand-in-hand with homeless youth advocates and service providers," said Jim Beck. "This is the type of partnership you hear politicians tout, but rarely, if ever, see in action."
"Reed Construction Data is honored to work with Deborah Shore and the staff and students of Sasha Bruce Youthwork, as well as the volunteers and sponsors who gave time, materials and donations to make this project a success," said Iain Melville. The partners of AEC Cares believe this project can lead to great futures for generations of young people."
About Reed Construction Data
Reed Construction Data, a division of Reed Business Information and the Inaugural Strategic Partner of the AIA, is a leading North American provider of construction information. Reed Construction Data's diverse portfolio of innovative products and services includes national, regional and local construction data, building product information, construction cost data, advertising channels and market intelligence solutions to construction industry professionals in the U.S. and Canada.