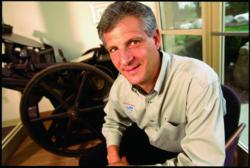 This is an opportunity for Small Businesses to have a voice and to be heard on the National stage. I am honored to represent both Small and Family Businesses from across the Midwest – Tom Flottman, CEO-Flottman Company
Northern Kentucky - Cincinnati, OH (PRWEB) June 13, 2012
Who: CNBC Small Business Town Hall Meeting – Atlanta
Tom Flottman, CEO Flottman Company – Northern Kentucky-Cincinnati, Ohio

Brian Sullivan, host and co-anchor of CNBC's "Street Signs"
Steve Case, CEO and founder of America On Line
Sara Blakely, Spanx Founder
Karen Mills, US Small Business Administration
What: CNBC Presents "Getting Back To Business: A CNBC Town Hall Event." Bringing America's Small Business Owners face-to-face with some of the Most Successful Entrepreneurs in America, hosted by CNBC's Brian Sullivan.
Where: To be filmed at CNBC's Studios in Atlanta, Georgia - June 13th, 2012
When: The show will be taped June 13th for broadcast on CNBC, Wednesday, June 20th, 2012 at 9 PM ET., simulcast on CNBC online and CNBC's Small Business Blog will feature special continuous coverage of the entire event,
Background: Tom Flottman was selected to participate in this Town Hall Event through his pivotal membership in the University of Cincinnati's Goering Center for Small Business Success. Tom's comments on Family Businesses in the New York Times last April, drew the attention of CNBC's producers. Tom will represent Small and Family Businesses from the Midwest and is poised to ask the panel a question as well as stimulate conversation within the audience. To find more information on "Getting Back to Business: A CNBC Town Hall Event" visit backtobusiness.cnbc.com and http://www.cnbc.com/id/47741804. For more information on the Flottman Company visit http://www.flottmanco.com or contact Ed McMasters 513-470-9461.