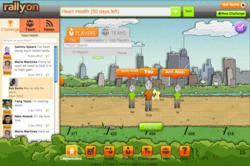 "A lot of companies are using game mechanics now, but we're pushing the envelope even further by creating a complete game environment that includes animated avatars and worlds that are visually engaging," said Doug Keare, CEO of RallyOn
Menlo Park, CA (PRWEB) June 14, 2012
RallyOn, Inc, a provider of corporate wellness gaming solutions, announced today that it has added advanced social gaming features to its challenge platform. The RallyOn solution introduces animation to its game-based interface and includes gaming elements that extend the existing challenge functionality to drive even higher levels of employee engagement. RallyOn is the only provider that allows corporations to customize backgrounds and animations in the games to promote their own wellness brands.
Key elements of the new challenge platform include animated avatars and visual leaderboards that bring the challenges to life; improved team-communication tools for team captains and players; and a new, simplified user interface designed for tablets and smart phones, which are increasingly becoming the primary platforms used by employees.
This latest release moves RallyOn to the forefront of the movement to improve the effectiveness of corporate wellness efforts by introducing fun and competition to complement the use of traditional programs that focus on intervention and incentives.
Unlike other wellness gaming solutions, the RallyOn challenge platform is highly flexible and allows companies of any size to tailor fun, social games specifically to the interests of their employees. RallyOn games can be designed to focus employees on hundreds of activities in areas such as nutrition, wellness, and fitness as well as environmental and charitable activities.
"A lot of companies are using game mechanics now, but we're pushing the envelope even further by creating a complete game environment that includes animated avatars and worlds that are visually engaging, and by offering companies the opportunity to customize their wellness challenges to reflect their corporate culture," said Doug Keare, CEO of RallyOn.
"Allowing companies to provide wellness events that their employees actually want to participate in is going to enable companies finally to make inroads on America's obesity problem," says Jennifer Gill Roberts, RallyOn chief marketing officer, "What's more, companies can introduce RallyOn's social gaming solution to employees all over the world. The language of gaming transcends national boundaries and allows organizations to rally all of their employees together around the common goal of building a healthier, more productive workforce."
About RallyOn
RallyOn brings the power of social gaming to employee wellness programs to help organizations build healthier, more productive cultures through team-based, tailored wellness challenges. Launched in 2010 in Menlo Park, California, RallyOn has deployed workplace wellness programs to corporations and institutions around the world. Today, RallyOn's health and wellness programs average more than 70% employee engagement.
More information about RallyOn is available at http://www.rallyon.com.