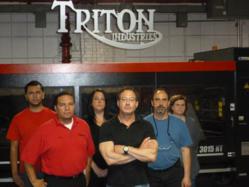 Being centrally located, we're able to be competitive with our shipping and have evolved into the best choice for many companies who outsource their metal forming needs
Chicago, IL (PRWEB) June 14, 2012
In preparation for anticipated growth in the third quarter of 2012, Triton Industries Inc., a national leader in custom metal fabrication, has made substantial recent additions to its infrastructure and staff.
Following a 22% increase in new custom metal orders in the second quarter of 2012, Triton expanded its staff of skilled metal workers and welcomed Engineer Ray Graciano to the company as its Chief Engineer. Graciano comes to Triton after more than five years at Amada America as their Laser and Turret Applications Engineer. His experience and expertise will complement Triton's recent acquisition of the Amada FOM2 laser – one of the world's fastest laser cutting systems.
"Ray is an extraordinarily skilled young mind. His focus, attention to detail and intimate knowledge of the new laser will give Triton and its customers the edge to remain competitive by maximizing the time and resources dedicated to the laser. It's already incredibly fast. It can cut the average metal chassis in about 45 seconds. Ray's familiarity with (the laser) will help us to operate at a peak level of efficiency," said Triton President Brent Wortell.
Triton adds the Amada laser to its already substantial arsenal of equipment in its 100,000 square foot, mortgage-free facility in Chicago which includes turret presses, press brakes, stamping presses (up to 400 ton), spot welders, MIG/TIG welders and more. The equipment allows Triton to remain one of the nation's leading suppliers of metal components and provide exceptional, cost-effective services such as laser cutting, prototyping, bending, punching, forming, punching, hardware insertion and automated assembly. "Being centrally located, we're able to be competitive with our shipping and have evolved into the best choice for many companies who outsource their metal forming needs," said Wortell.
With Triton's recent AS9100:C and ISO 9001:2008 certifications, the company is focused on expanding its range of products and services to include the aerospace industry as well as continued growth in the medical, agriculture, vending, gaming, security and transportation industries.
A significant aspect of Triton's overall streamlining plan includes a substantial commitment to the greening of the company's functions. This includes the recent installation of a comprehensive lighting system from Orion Energy Systems replacing all of Triton's 400W metal Halide lighting fixtures. The new High Intensity Fluorescent Interior Lighting system provides an energy savings of greater than 50% annually. The system brings significantly greater lumens − creating an almost daylight quality to the operating facility. Additionally, the company continues to recycle and repurpose all of it metal remnant materials. This increased efficiency translates into good environmental stewardship and greater overall savings to Triton's customer base – a focus which has allowed Triton to remain a leader in the custom metal fabrication industry since 1961.
Established in 1961, Triton Industries, Inc. is a leader in precision metal fabrication. Triton manages entire projects from prototype design to specification, fabrication and testing at its centrally located production facility in Chicago, IL. Triton's list of services include, but is not limited to, laser cutting, bending, punching, hardware insertion, powder coating, welding, forming, punching, progressive die, automated assembly and MIG/TIG welding. The company currently provides custom metal fabrication services to such industries as aerospace, medical, agricultural, security, transportation, oil and gas, gaming, vending and food service. Triton has ISO 9001:2008 and AS 9100:C certifications from QSR (Quality Systems Registrars), an internationally-recognized independent auditor of industry regulations and aerospace management systems.