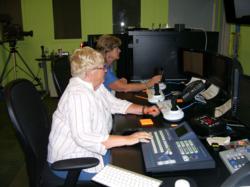 Linda hosts a wonderful show that helps writers, like me, receive recognition for their work. She provides a great service for the community via her show and a valuable outlet for the literary arts.
Phil Keith, Black Horse Riders
Massapequa Park, NY (PRWEB) June 20, 2012
Producer, Frank, Author of Annie Tillery Mysteries, is expanding The Writer's Dream, a Long Island author's forum, to Cablevision's Channel 20. This addition is an important marketing tool for author's, enabling them to get the word out about their books and related projects to a wider audience. Originally the show aired only in East Hampton. The move to Cablevision includes most of L.I. Frank's Blog, on her website details the TV show's journey from inception to the present.
The Writer's Dream is a marketing opportunity for authors. This half hour show, recorded by a team of trained director and camera crew, in an attractive and professional studio gives them a platform to speak about their experiences as writers, publishers and marketers. Today authors find themselves confronted by a new publishing industry, where the opportunities to self-publish, be your own agent, and market your product abound, and they are taking on much of the responsibility for their book's promotion. Authors now rely on social media to market. The Writer's Dream experience provides the author with the interview which is aired on Local TV, and purchase of a DVD of the show for $10.00. The DVD can be edited and shown on the author's website, facebook and youtube pages, as well as in presentations. The Writer's Dream Channel can be viewed on YouTube. Visit Frank's facebook http://www.facebook.com/pages/The-Writers-Dream/144688198966801. The show is a strong tool, allowing authors to link TV air time to their social media and other marketing strategies.
Frank is a member Long Island Authors Group, and has reached out to Long Island Romance Writer's, Long Island Children's Writers and Illustrators, as well as Sisters in Crime, expanding the number of authors contacted, and providing additional exposure on LI's Cablevision. Frank is investigating other local access stations, and expects to air the show in all Long Island Counties, including Brooklyn and Queens by the fall.
Authors interested in increasing their exposure to the public, and in making new contacts may get in touch with Frank about the show and appearances, by speaking directly with her using the contact information below.
About The Writer's Dream
The Writer's Dream is a local access TV show providing a forum for authors of published works to provide information about the world of writing publishing and marketing, as well as the events they do to promote their work. The team is dedicated to providing accurate and interesting information about the writing profession and authorship. The show is produced by Linda Maria Frank, author of "The Madonna Ghost", and" Girl with Pencil, Drawing". The production team includes host, Karen Bonnet, author of "Whale Island and the Mysterious Bones", host, Dina Santorelli, author of "Baby Grand", and director, Genevieve Lee. Joe Satriano, author of "In Sickness and in Health, a Memoir of Love", is second director and camera man. In the words of Dina Santorelli, "I love talking to authors and discussing the writing and publishing processes. During every interview, I discover something new." To find out more about the team visit Frank's blog at http://annietillerymystery.wordpress.com/.