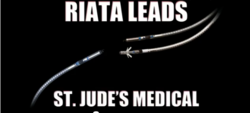 "Riata Leads have shown a propensity to work their way out the insulation, causing the device life depends on to malfunction" - Rhett A. McSweeney
(PRWEB) June 18, 2012
Roughly 79,000 U.S. patients have been implanted with the Riata Lead from St. Jude Medical Inc. The Riata and Riata ST ICD leads manufactured by St. Jude Medical have recently come under increased scrutiny because the conductor cables have been observed to extrude from the outer insulation. According to the May 11, 2012 Wall Street Journal article, doctors believe the protruding could be a sign of dangerous electrical problems that could cause the lead to malfunction, shocking or even killing the patient.
Christopher Ellis, M.D. of the Vanderbilt University Medical Center, said his group of doctors decided to recommend patients remove all leads with frayed wires visible on X-rays, even if they are working.
Riata Leads were recalled December 14, 2011 as part of a FDA Class I Recall. According to the FDA recall, medical advisers noted a higher-than-normal rate of insulation failure, called externalization. Affected model numbers include the Riata (8F) Silicone Endocardial Defibrillation Leads (Models 1560, 1561, 1562, 1570, 1571, 1572, 1580, 1581, 1582, 1590, 1591, and 1592), and the Riata ST (7Fr) Silicone Endocardial Defibrillation Leads (Models 7000, 7001, 7002, 7010, 7011, 7040, 7041, and 7042).
Attorneys at the law firm McSweeney / Langevin are currently offering individuals free legal advice concerning the rights of patients with these devices. McSweeney / Langevin can be reached at 1-800-888-4425 or info(at)WeStrikeBack(dot)com.