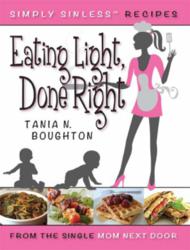 Dallas, TX (PRWEB) June 13, 2012
In her Emotional Eating Workshop on June 14 in Irving, TX, Tania N. Boughton, author of Eating Light, Done Right, shares her story of knowing firsthand the struggles that come with negative thought patterns which lead her to a life of emotional eating and remaining significantly overweight.
From childhood forward, the author struggled with negative thought patterns and beliefs, ultimately leading her to a lifetime of emotional eating. After managing to get things under control for nearly a decade, she found herself backsliding into old thought and eating patterns while in the midst of a difficult relationship during her pregnancy with her second son. Reaching for the comfort of food was her method of coping, and as she grew more and more unhappy, the number on the scale continued to climb.
After losing many battles, Tania had a breakthrough moment two weeks after her son's birth. Junk food in one hand, standing on the scale and shocked at the number staring back at her, Boughton knew this was not a quality of life for either herself or her two young boys. She made the decision to stop the lies she believed about herself, stop the cycle of emotional eating, and get the weight off permanently.
Arduously stripping back old beliefs and learning how to love herself first, Tania began to experiment in the kitchen by transforming hundreds of recipes from "fat bombs" into healthier, but still tasty meals. As the weight dropped off and Tania adopted a healthy lifestyle, Eating Light, Done Right was born. Passionate about helping others overcome their own issues with emotional eating, Boughton offers powerful, real-life tools and practical advice that anyone can begin to use immediately.
"You can't heal your heart through your mouth," Tania says. "What you will find in this workshop is a healthy approach to cooking, eating, and making a healthy lifetime commitment."
The book can be purchased by visiting http://www.eatinglightdoneright.com or on Amazon.com.
###