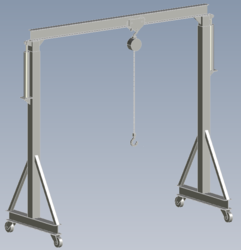 plans are for the building of a portable gantry crane that can lift up to 2 tons in weight and extend up to a height of ten feet
Duluth, MN (PRWEB) June 14, 2012
New plans for a portable gantry crane have been released on Gizmoplans' website to give companies the ability to build their own gantry crane instead of having to buy one. The new gantry crane plans are the latest addition to fabrication equipment building plans through Gizmoplans and are designed to make lifting heavy loads from truck beds, trailers, and other surfaces easier.
The gantry crane's strongest advantage is its mobility, making it convenient to have in any shop, warehouse, or industrial setting. Many companies like having them on hand because they are relatively inexpensive when compared to other, more permanent cranes. Gizmoplans seeks to make that cost even less by providing new gantry crane plans that include step-by-step fabrication and assembly instructions.
The plans are for the building of a portable gantry crane that can lift up to 2 tons in weight and extend up to a height of ten feet, as needed. The plans can easily be altered to any height desired by a simple adjustment to the vertical square tubing length. Four steel swivel casters enable the user to move the crane wherever it is needed and there are two hydraulic jacks on each end to manage the weight as it is lifted.
Included in the plans for the gantry crane:

General layout
CAD drawings in PDF format for easy reading
Individual piece drawings
Shop fabrication drawings
List of all parts
Because these plans are so detailed, companies can build the gantry crane right there on their premises or they can choose to have a local company build it for them. Customers can download the gantry plans immediately from the website and start building their crane right away. Gizmoplans offers engineering support via email or phone throughout every stage during the assembly process, if customers have any questions or need advice. All of the plans on Gizmoplans' website come with a 100 percent satisfaction guarantee. For more information on the gantry crane and other fabrication equipment plans from Gizmoplans, please visit their website at http://www.gizmoplans.com.
About Gizmoplans
Gizmoplans is an online informational website that provides businesses and individuals with downloadable DIY solutions. These plans can be used to build projects for recreation, hobbies, recycling, industry, woodcrafts, metal fabrication, alternative energy and much more. Gizmoplans is also a hub for businesses and individuals to upload and sell their own plans, patterns, how-to ebooks and more. This online marketplace can benefit both the purchaser and the seller in the DIY community. To get more information on DIY plans and DIY projects, visit Gizmoplan's website at http://gizmoplans.com/.