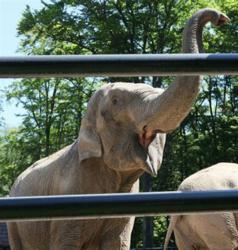 Langhorne, PA (PRWEB) June 14, 2012
It used to be just a single octopus named Paul, the prescient mollusk whose 2010 World Cup predictions took the world by storm. Now, for the Euro 2012 tournament, it seems like everyone's hopping (and stomping and swimming) on board, with high-profile, purportedly psychic predictors -- from a mango-munching elephant in Poland to a pair of clairvoyant fish in Singapore -- making headlines with their final match choices.
So how much should we bet on our pets' winning picks?
According to professional psychics at the all-human Hollywood Psychics, using animal gestures to predict the outcomes of sporting events will give you pretty much the same odds as completely random betting.
"I got a good chuckle out of the article about psychic pet predictions," says Sumaria Jones, a veteran psychic at Hollywood Psychics. "I do believe many animals have an innate instinct which allows them to avoid danger," she adds. But that's as far as she'll go in terms of relying on an animal's instincts to make sporting bets, or any other important decisions.
Psychic PJ, another Hollywood Psychics professional, has four dogs and two cats and says she never doubts in what animals are capable of doing. "However," she adds, "I feel that this is an issue that is way too ridiculous to seriously consider."
So what are Sumaira's and PJ's predictions for Euro 2012? "Although I understand that, for lots of reasons, many people would love to know results before any game," PJ says, "that's not my calling. I prefer to work with people and their real-life concerns."
All of which leaves anyone looking for reliable Euro 2012 predictions with no psychic help – human or elephantine. There is one thing, though, that seems like a pretty safe bet: the predictions of "psychic animals" will continue to dominate headlines until the actual results of the final games come in.
About Hollywood Psychics:
Hollywood Psychics is an established provider of psychic readings by phone and online chat, appealing to a young professional demographic. Hollywood Psychics experts specialize in astrology, horoscopes, numerology, tarot cards, clairvoyant readings, and many other psychic disciplines. Hollywood Psychics believes in its community of authentic psychics and stands behind the authentic psychic readings they deliver to clients. Visit them online at http://www.hollywoodpsychics.com.
For more information, contact:
Maryanne Fiedler, Marketing Director
maryanne(at)hollywoodpsychics(dot)com
215-953-8568