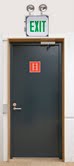 "Finding an exit quickly and efficiently is the best way to avoid panic," says Daniel Male, manager at SimplyExitSigns. "The addition of emergency lights makes these signs the best possible choice for any emergency."

Brooklyn, New York (PRWEB) June 14, 2012
SimplyExitSigns.com is promoting a line of Exit and Emergency Lighting Signs for the summer season. As air conditioner use skyrockets, power companies can be overwhelmed with the surge of electric use, heightening the risk of large power outages. SimplyExitSigns.com provides emergency lighting to avoid panic and entrapment during such an emergency.
While regulations differ by jurisdiction, illumination is generally required along exits and emergency pathways for public buildings. During blackouts, unfamiliar places can become terrifying traps, putting safety at risk. While large scale black outs are rare, protecting a business or public building is a necessary precaution for maintaining order and safety in all situations.
SimplyExitSigns offers a variety of lighted exit signs, acknowledging both Chicago and New York standards. These signs are LED lit for exit illumination. They are sized to fit attractively anywhere and require very little energy. The signs meet NFPA Life Safety Code 101, NED, OSHA, and local codes. Directional indicators are also included with the signs and can be added if necessary. With a universal mounting system for ceilings, walls, or flat mount surfaces, these signs can be posted anywhere for optimal visibility and use.
Finding an exit is one of the most important steps of emergency protocol. Having a plan in place and signs to direct the way is invaluable. SimplyExitSigns maximizes this by providing signs at an unbeatable price for an instrumental sign. "Finding an exit quickly and efficiently is the best way to avoid panic," says Daniel Male, manager at SimplyExitSigns. "The addition of emergency lights makes these signs the best possible choice for any emergency."
Shoppers have the opportunity to add additional options, colors, and configurations. Lamps are adjustable and can be pointed towards the exit. These eye-catching signs are also available with bilingual text.
For more information and a better view of all Exit Signs, visit
http://www.simplyexitsigns.com/LED-Exit-Signs.aspx
About SimplyExitSigns.com
SimplyExitSigns.com provides over 5,000 different exit and emergency signs for any business or property. Whether it's stairways signs, emergency exit arrows, or customizable options, the signs will last for decades through weather and abrasion. Find direct-from-factory items 50% cheaper than any competitor.
About SmartSign
SmartSign is one of America's fastest growing e-commerce companies and parent of http://www.MySafetySign.com, http://www.SimplyExitSigns.com, as well as over 50 other sites.
Traditionally, signs with the right message have been hard-to-find, hard-to-design and hard-to-order. By positioning "Signs as Solutions", SmartSign has taken an entirely different approach. Through highly targeted, yet content-rich and authoritative sites, the company provides specific solutions to specific problems - such as keeping property safe and secure. "We take the agony out of finding and ordering your perfect sign" - Blair Brewster, SmartSign founder. Couple this with fast and free shipping, 3M warrantied signs that outlast fast-fading ink jet signs from competitors, the web's largest range of designs and a best price guarantee, it is easy to see why SmartSign has grown so quickly.
Check out the company's blog to learn about how signs relate to everyday life matters at:http://www.smartsign.com/blog/.