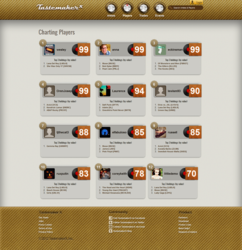 We created TastemakerX as a way to reinvigorate music discovery in a way that's social and engaging.
San Francisco, CA (PRWEB) June 14, 2012
TastemakerX, the social game for music discovery, is now available for the public through a new fully functional website and updated iOS app. Anyone can register to play online. iPhone, iTouch and iPad users can download the TastemakerX mobile app from the Apple App Store. The company leveraged user feedback and data gathered during the private beta period to create a robust web and mobile gaming experience for music fans everywhere.
TastemakerX is a fun, competitive way to discover new music and build a profile of personal tastes to influence others. Game features include social sharing, biographies of bands, news items and the ability to listen and purchase tracks from the iTunes store. The TastemakerX TScore measures a fan's influence on new and popular music using a 100-point scale. Players build this score based on how good they are at finding up-and-coming artists and by engaging in the TastemakerX ecosystem. Players discover new artists by viewing real-time activity on most recent "trades", by connecting with like-minded music fans, by exploring artist profiles and by comparing player portfolios of artists they love.
"Fans everywhere aspire to be tastemakers among their peers. It's thrilling to be the first one to discover a band and share it with your friends. We created TastemakerX as a way to reinvigorate music discovery in a way that's social and engaging," said Marc Ruxin, CEO & co-founder of TastemakerX. "It's a way for you to express support for an artist in the early days by preserving an ongoing record of seminal music moments that you share across the game's social feed, Facebook and Twitter."
The game is currently available on the TastemakerX website and the TastemakerX iPhone app. The game will also will be available on other online and mobile platforms later in the year. For more information or to register to play, visit http://www.tastemakerx.com.
Contact Us! Press/Katy(at)TastemakerX(dot)com – Twitter/@TastemakerX – Facebook/TastemakerX
About TastemakerX, Inc.
TastemakerX is social gaming platform for music fans. The game encourages players to discover new artists, trends and inspiration; compete against other tastemakers; and share experiences through geo-tagging, commentary and photo sharing. TastemakerX was founded in 2011 by Marc Ruxin and Sandro Pugliese and is headquartered in San Francisco, Calif. Investors include Guggenheim Partners, Baseline Ventures, True Ventures, AOL Ventures, Tekton Ventures. Angel investors & advisors include John Battelle, Marc Geiger, Andrew Anker, Mich Mathews, Michael Kassan, Ian Rogers, Paul Bricault, Ted Rheingold and Mike Lazerow.
###