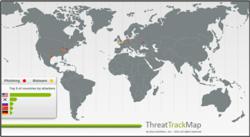 DMS proactively detects phishing, pharming, malware and other fraudulent activities thus protecting online users from identity theft.
Sunrise, FL (PRWEB) June 15, 2012
Easy Solutions, Inc., the leading online fraud protection company, announces the launching of a new version of Detect Monitoring Services (DMS). DMS proactively detects phishing, pharming, malware and other fraudulent activities thus protecting online users from identity theft.
The differentiating factor for DMS is its ability to proactively identify fraudulent activity with proprietary technology called DetectCA. DetectCA senses specific patterns and behaviors that occur in the early stages of a phishing, pharming and malware attacks, providing a method to stop it before reaching online users.
The new DMS Customer Portal features a module for Detect Safe Browsing (DSB), a security agent that is installed on end users' devices. When DSB detects Hosts file poisoning or financially motivated malware on a computer, the information is relayed to the DMS Customer Portal. DMS then provides 24/7 protection to rapidly identify, shut down and recover from the online attacks that mislead customers.
The DMS Customer Portal also offers an easy way to report new incidents. Customers can view phishing, pharming and malware attack information as well as download reports that assist with regulatory compliance.
Existing and new DMS customers will immediately benefit from key additions and upgrades including:
DetectCATM architecture update which includes a new system for connection information gathering and analysis in real time.
New Flash Active Monitoring Script that significantly increases proactive detection capabilities to identity cybercrime activity in real time.
Additional analyzer that improves the detection and analysis of phishing sites.
Tickets and monthly reports now created in English or Spanish.
ThreatTrackTM Map shows phishing and malware attacks around the globe and includes the five countries with the most incidents.
Key Features of DMS:
24x7x365 real time monitoring to rapidly identify, shut down and recover from phishing, pharming, and malware attacks.
Protects before and after the fraudulent attack is launched.
Proven track record in disabling fraudulent websites.
Customer Portal for viewing monitoring activity, notifying new incidents, and downloading reports.
Assists with regulatory compliance including the updated FFIEC Authentication guidelines.
Supported by DetectCA proprietary methodology to qualify anomalies in online connections.
Seamless integration with DSB to prevent threats affecting the end user device.
Includes Easy Solution's Worldwide Collaborative protection that allows end users with DSB to send intelligence to protect end users w/out protection agents.
For complete details about Detect Monitoring Services, please visit:
http://www.easysol.net/newweb/Services/detect-monitoring-service
ABOUT EASY SOLUTIONS:
Easy Solutions is the only security provider focused exclusively on prevention and detection of electronic fraud. Easy Solutions provides anti-phishing and anti-pharming services, multi-factor authentication and anomaly transaction detection.
Easy Solutions delivers a comprehensive and proactive approach to fraud prevention and works in alliance with industry leaders in other security disciplines supporting a wide range of heterogeneous platforms.
United States: 1401 Sawgrass Corporate Parkway, Sunrise, FL 33323. Tel. 1 (866) 524 4782
Latin America: Cra. 13A No. 98 – 21 Of. 401. Bogota, Colombia. Tel. +57 1 – 742 5570