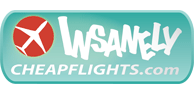 (PRWEB) June 14, 2012
InsanelyCheapFlights announced cheap flight deals to more cities today, adding to an extensive list of deals to thousands of destinations. The promotion includes flights to international cities as well as domestic, and applies to most flights leaving from airports in the U.S.
The new cities include Cincinnati, Ohio, and the discount is good on most tickets to Cincinnati/Northern Kentucky Airport (CVG) from other U.S. cities. The discount applies to all classes of seats, from economy to first class. Fly to your destination in style or save even more on already cheap economy tickets.
Also included in the promotion are flights to Indianapolis, Indiana. Travelers can save up to $20 on airline tickets to Indianapolis International Airport (IND). Last minute travel is also eligible for the discount, so business travelers can save on flights to Indianapolis even on short notice.
Flights all across the globe are currently on sale at InsanelyCheapFlights. To see which destinations are covered by the promotion, travelers can visit the site's homepage and use the geographical links to find their destination. After finding the desired location, travelers can then use the provided promotional code to save on their tickets.
"We want to make it as easy as possible for flyers to save money on their flights," says Steve Oliverez, CEO of InsanelyCheapFlights. "We even redesigned the site for this promotion to make it easier to find cheap tickets to a traveler's destination."
Founded in 2009, InsanelyCheapFlights has grown rapidly while maintaining its core focus - helping travelers find the cheapest flights available online. While the site has added hotel room and car rental bookings, as well as vacation packages and other travel options, the primary function of the website is still finding cheap flights.
The promotion code can be found on the homepage of the website and is used on the booking page when purchasing airline tickets. It applies to service fees only.