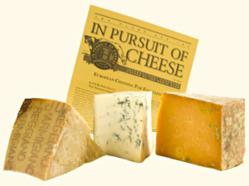 My brother has thoroughly enjoyed the gift membership to the club. He's never been this excited about any gift I've ever given him! - Deborah S., Denver, CO
Lake Forest, CA (PRWEB) June 14, 2012
Father's Day brings to mind power tools and neckties, golf clubs and fishing poles; this year however, the most thoughtful wives and kids can show their ingenuity with a cheese of the month gift membership. Not only will Dad see how much thought went into the gift's selection, he will revel in his family's love every time a new shipment arrives.
Each member of the Gourmet Cheese of the Month Club receives three, half-pound blocks of fresh cut, superior quality cheese every month. Dad will get to sample flavors he wouldn't easily find on his own, so even foodie fathers may discover a new favorite. The club's farmhouse selections are made with raw milk and natural ingredients, and are always purchased directly from the source.
The Cheese of the Month Club selects only the most creative interpretations from boutique producers worldwide. Working closely with Zingerman's Delicatessen—voted the country's best—the club procures the most innovative, often one-of-a-kind selections. Each shipment is packed in a carefully controlled "cheese cave," ensuring the proper temperature, humidity and amount of light to maintain peak freshness.
Club members will experience the joy of exploring a wide range of aromas, flavors and textures from all over the world, like fruity St. Nectaire—made from the famed milk of Salers cows, that gets its flavor from the perfumed volcanic pastures in which the cows graze. Petit Basque is another rare find: this semi-hard ewes' milk cheese is crafted by small mountain cheese makers using the same traditional methods established by their ancestors centuries ago.
In addition to eating well, Dad will learn all he ever wanted to know about his flavorful selections from the cheese club's informative newsletter. In it members can read profiles on each farmhouse, tips for incorporating the cheese into recipes, and suggestions for the most flavorful beverage pairings.
Membership in the Gourmet Cheese of the Month Club is just $29.95 per month, plus shipping—and lasts a duration of two to twelve months. Gift givers have the option to pay in installments or all at once. This Father's Day, give the gift of good taste and remind Dad that he's also one-of-a-kind.
For more information visit http://www.MonthlyClubs.com or call 1-800-625-8238
About Us:
Established in 1994, The Gourmet Cheese of the Month Club is just one of the six gourmet of the month clubs owned and operated by MonthlyClubs.com™. With almost two decades of delivering gourmet products right to their customer's door steps, MonthlyClubs.com™ has earned an A+ Better Business Bureau rating and a loyal customer base.