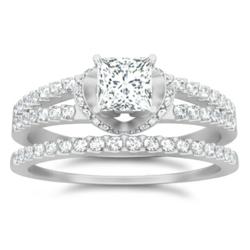 Wedding Ring Sets is collection of matching engagement rings and wedding bands, which can be purchase together to save money
Baltimore, MD (PRWEB) June 15, 2012
Wedding Ring Sets, or Wedding Sets as they are alternatively called, is collection of diamond engagement rings and matching wedding bands. Customers love to purchase wedding ring sets because not only can they get pair of diamond rings at lower price, but also the wedding sets look much better than normal engagement rings. JewelOcean has updated its wedding ring sets collection to feature cheap wedding ring sets to meet the growing demand of its customers.
JewelOcean has always been a leader in retailing wedding sets. According to Mr. Kan Sin, manager at JewelOcean, wedding sets make up almost half the sale at JewelOcean. It is no wonder then JewelOcean invests heavily to continuously upgrade it wedding sets collection to meet the changing requirements of its customers. Mr. Sin further adds that when men are looking for wedding sets for their girlfriends, they already have a definite set of requirements. Therefore, JewelOcean allows customers to customize all of the wedding sets it has on sale, so that customers can configure the wedding set to their needs and requirements. Wedding sets on JewelOcean are available in different price ranges. Customers can find cheap wedding sets starting from only $499 to more expensive sets that range upwards of $2000.
Bridal sets come in different varieties on JewelOcean. Customers can find solitaire bridal sets, which compromise of a solitaire engagement ring and matching wedding band, to more comprehensive antique bridal sets, which feature unique antique engagement rings which are hand engraved along with its matching diamond bands. Mr. Sin states that the main goal at JewelOcean is to accommodate needs of different customers who require different kinds of bridal sets according to their needs. JewelOcean also has a regular sale section which features cheap engagement rings and bridal sets which are currently on sale at inexpensive prices. The sale section is updated very regularly as most of the sets get sold out very fast.
JewelOcean.com is online jewelry retailer, that retails diamond rings and diamond wedding sets to customers at inexpensive prices. Most of the engagement rings on JewelOcean can be customized by the customer, so customers can find a diamond ring which is within their budget and according to their style. JewelOcean provides excellent customer service with 24/7 customer support and comprehensive refund policy. Customers who are interested in wedding ring sets should visit the JewelOcean website.