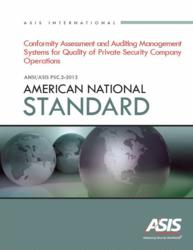 Alexandria, VA (PRWEB) June 14, 2012
ASIS International(ASIS), the preeminent organization for security management professionals worldwide, received ANSI approval for its standard, Conformity Assessment and Auditing Management Systems for Quality of Private Security Company Operations(ANSI/ASIS PSC.2-2012). Developed by an international Technical Committee comprised of members from civil society organizations, as well as PSCs and their clients, this standard provides requirements and guidance for conducting a conformity assessment of the ANSI/ASIS PSC.1-2012, Management System for Quality of Private Security Company Operations – Requirements with Guidance (PSC.1) Standard.
Private Security Service Providers including Private Security Companies (collectively "PSCs") play an important role in protecting state and non-state clients engaged in relief, recovery, and reconstruction efforts; commercial business operations; diplomacy; and military activity. Independent, external conformity assessment and certification of a Quality Assurance Management System is one means of providing assurance that a PSC has implemented a system for the management of quality of service consistent with respect for human rights, legal obligations, and good practices, as specified in the PSC.1 standard. Clients who use the services of PSCs have indicated they will use the ANSI/ASIS PSC.1-2012 in their contracting processes. The PSC.1 Standard serves as a differentiator for companies that can provide quality of service, manage risk and respect human rights.
"When incorporated into contracts, compliance with the standard becomes enforceable under contract law," says Christopher Mayer, director, Armed Contingency Contractor Policies and Programs at the U.S. Department of Defense. "Aside from direct legal action, the contracting activity can assess penalties, demand redress, withhold payment, and implement other measures to include contract termination to promote compliance and encourage company adherence."
The ANSI/ASIS Conformity Assessment Standard provides requirements and guidance on the management of audit programs, conduct of internal or external audits of the management system and private security company operations, as well as on competence and evaluation of auditors.
"The integrity of the auditing process and the competence of auditors are key to a credible conformity assessment process" says Marc Siegel, Commissioner, ASIS International Global Standards Initiative. "This standard builds on the time-tested ISO/IEC conformity assessment process to raise the bar for auditing in complex environments. By defining auditor competence and a transparent auditing process, the ANSI/ASIS Conformity Assessment Standard helps assure that PSCs will be treated fairly and only those that live up to the conformance requirements of the PSC.1 standard get certified."
The PSC.2 Standard:

Is a sector specific based on the ISO/IEC 17021:2011 Conformity assessment -- Requirements for bodies providing audit and certification of management systems
Provides requirements and guidance for independent Certification Bodies conducting conformity assessment of the standard ANSI/ASIS PSC.1-2012, Management System for Quality of Private Security Company Operations – Requirements with Guidance
o Builds on the existing ISO/IEC conformity assessment process to address the need for civil society organizations, local communities and clients to be assured that the assessment process is both thorough and credible
o Provides requirements and criteria for the competence and evaluation of auditors
o Provides confidence and information to internal and external stakeholders that the requirements of the ANSI/ASIS PSC.1-2012 are being met
o Provides a mechanism for civil society organizations, local communities and clients to address issues that might arise with regard to certification of a PSC
o Assures all PSCs are evaluated using a defined, repeatable, equal and transparent process without surprises
o Can also be used by PSCs to develop their internal auditing programs to evaluate their performance and drive continual improvement.
"The importance of standards and certification of private security functions is not limited to Department of Defense or U.S. Government contractors," says Mayer. "Other governments, humanitarian agencies, private corporations, and others operating in same region might all contract for private security services. Misconduct on the part of any private security provider adversely affects the ability of all private security providers to perform their duties, regardless of client. This affects the ability of organizations protected by these contractors to execute their missions of government support, relief, reconstruction, and the commercial activity necessary to restore stability to a region."
ASIS continues to develop the series of PSC standards with upcoming standards for a maturity model for the phased implementation of the ANSI/ASIS.PSC.1-2012, and guidance on the implementation of the ANSI/ASIS.PSC.1-2012 for maritime security.
The work of preparing ASIS Standards and Guidelines is carried out through the ASIS International Standards and Guidelines Commission and its committees. An ANSI accredited Standards Development Organization, ASIS actively participates in the International Organization for Standardization, developing standards and guidelines within a voluntary, nonproprietary and consensus-based process, utilizing the knowledge, experience and expertise of ASIS membership, security professionals and the global security industry. View a complete list of all ASIS Standards and Guidelines currently under development.
# # #
ASIS International is the preeminent organization for security professionals, with 38,000 members worldwide. Founded in 1955, ASIS is dedicated to increasing the effectiveness and productivity of security professionals by developing educational programs and materials that address broad security interests, such as the ASIS Annual Seminar and Exhibits, as well as specific security topics. ASIS also advocates the role and value of the security management profession to business, the media, government entities and the public. By providing members and the security community with access to a full range of programs and services, and by publishing the industry's No. 1 magazine—Security Management—ASIS leads the way for advanced and improved security performance.