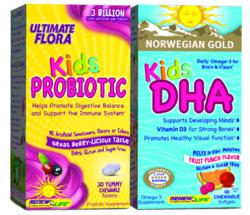 Kids respond well to specific probiotic strains that help them build a strong gut bacteria balance and to the nourishing eye and brain benefits of concentrated fish oil.
Clearwater, FL (PRWEB) June 19, 2012
Children's Supplements on the Rise
Nutrition Business Journal reports that sales for children's supplements are rising and are projected to grow at an impressive 4% rate each year through 2017.
"Many parents are now seeking probiotics, fish oil, and other supplements for their children's health, as well as their own," says Brenda Watson, ReNew Life President, PBS health educator, and New York Times bestselling author. "A child's developing immune and digestive systems are sensitive to the environment, especially after a course of antibiotics. Kids respond well to specific probiotic strains that help them build a strong gut bacteria balance and to the nourishing eye and brain benefits of concentrated fish oil."
Ultimate Flora Kids Offers Moms More Benefits
Health food shelves contain a variety of children's probiotics, but few with the probiotic culture potency and attention to the all-natural, no-sugar ingredients that Ultimate Flora Kids offers.
"Our kids' diets are typically high in sugars," says Watson. "Parents definitely don't want added sugars or artificial colors and flavors in their kids' probiotic. What they do want is a tasty supplement kids will take that includes clinically-backed strains at a potency that will positively impact the trillions of bacteria populating the young gut."
Ultimate Flora Kids Probiotic features:

3 billion live probiotic cultures per tablet—a higher potency than most kids probiotics, yet still gentle enough for a child's growing body.
6 probiotic strains for kids shown to support immunity, digestive health, and relief from occasional diarrhea, constipation, and gas.
No sugar or artificial sweeteners, unlike most kids' supplements. Ultimate Flora Kids is sweetened only with dentist recommended, low-glycemic xylitol.
Norwegian Gold Triples Omega-3 DHA for Kids
ReNew Life has also focused on making their new Norwegian Gold Kids DHA fish oil supplement a great-tasting option in a tiny, chewable softgel that is concentrated to optimize the level of DHA. This is especially important to moms who know that omega-3 DHA content counts.
"Many fish oil supplements are not concentrated and contain non-omega-3 saturated and polyunsaturated fats," says Watson. "These oils don't offer the specific brain and eye health benefits that growing kids need, benefits that omega-3 DHA oils provide. Norwegian Gold Kids DHA triples the DHA content of leading kids' fish oil brands and is purified using the industry's highest IFOS purity standards."
Nutritional guidelines specify that children need upwards of 145 mg of omega-3 DHA daily to support their developing brains, eyes, and nervous systems. The average American diet is low in DHA, however, and more parents are turning to a fish oil supplement to help. "Best of all," says Watson, "you'd never know this supplement was a fish oil with its all-natural fruit taste."
Norwegian Gold Kids DHA offers:

Three times the DHA at 200 mg per serving (and twice the overall omega-3 content)
Added vitamin D3 for growing bones, and in the softest chewable softgel available
All-natural fruit punch flavor, sweetened only with herbal-sourced stevia.
About Renew Life
Named America's No. 1 Digestive Care and Cleansing Company by SPINS, ReNew Life Formulas was founded in 1997 by Brenda Watson and Stan Watson and offers a full spectrum of natural digestive health and kids' supplements. Each ReNew Life product is made from only the finest raw ingredients. The company's analysis, educational materials, customer service, and superior manufacturing practices all set the benchmark for others in the industry. Above all, ReNew Life is dedicated to helping their customers achieve and maintain optimal health, increase energy, and enhance their mental clarity.
For additional information on new Ultimate Flora Kids Probiotic and Norwegian Gold Kids DHA, contact bcooper(at)renewlife(dot)com.