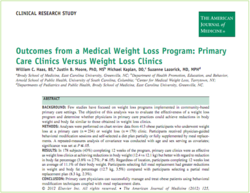 Tarrytown, NY (PRWEB) June 14, 2012
The Center for Medical Weight Loss will be attending Pri-Med New York 2012 on June 21st- 23rd. News of their attendance comes shortly after the company was featured in a weight loss study published in the American Journal of Medicine. CMWL will share the evidence-based research from the newly published study, which proves that medically supervised weight loss produces significant and effective results. These findings are expected to garner significant interest at the conference, one of the largest held for primary care physicians in the US.
Dr. Michael S. Kaplan, founder and Chief Medical Officer of CMWL, stated, "We are excited to have the opportunity to share these findings with so many motivated primary care physicians at this year's Pri-Med NYC conference. We think doctors will recognize the significance of this study and more will seek the training they need to provide medically-proven weight loss treatment to their patients who are looking to live healthier lives by losing the weight and keeping it off."
In addition to discussing the American Journal of Medicine research study, CMWL also plans to address how the company's practice development model can help primary care physicians drive new revenue and maintain profitability in an environment where health care policy continues to evolve. The company was the first to develop a fully-integrated professional program that offers the gamut of medical weight loss services and products, from extensive physician training and proprietary scale and data collection technology, to carefully manufactured meal replacement products and marketing programs designed to help physicians in the CMWL network attract new patients.
Kevin Eberly, CEO of The Center for Medical Weight Loss, is thrilled to have a presence at Pri-Med NYC, citing the opportunity to drive awareness of the company's mission for primary care physician practices. "We take seriously our mission of providing obesity and overweight treatment platforms designed to help physicians in our network successfully navigate the changing health care landscape while enabling them to focus on what they do best, which is to practice medicine and to help their overweight patients lose weight safely and live healthier lives. For instance, with the recent introduction of new insurance coverage for obesity counselling, not only does CMWL provide training on how to get reimbursed for those services, but more importantly, we provide the strategy, resources and support services for optimizing revenue generation between insurance reimbursement and delivery of the CMWL weight loss program. Our goal is to keep physician practices healthy so physicians can continue to keep their patients healthy."
Primary care physicians attending Pri-Med NYC can find The Center for Medical Weight Loss at booth number 345.
About Center for Medical Weight Loss
The Center for Medical Weight Loss (CMWL) programs provide an approach to long-term weight loss and maintenance under the care and support of trained physicians. Each fully individualized program is customized to the patient, taking into account his or her medical history, body composition, and personal goals. This individual care is supported with on-going one-on-one counseling by the physician on important topics including nutrition, fitness, behavioral modification, motivation, and, where necessary, prescribed medications. Physicians in The Center for Medical Weight Loss network are all certified professionals specially trained in non-surgical bariatric medicine who have access to the latest techniques and medical data, including high-quality nutritional products and FDA-approved weight loss medications only available to medical doctors. The CMWL programs are clinically proven and evidence-based. For more information, visit http://www.centerformedicalweightloss.com.