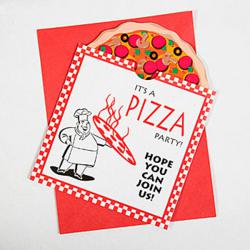 South Whitley, Indiana (PRWEB) June 14, 2012
School's out and the party supply experts at Shindigz.com know that sleepovers, movie nights, and parties for kids are underway. "When it's time to feed party guests, pizza is an ideal choice," says Jacquie Downey, Director of Sales and Marketing. "To help moms and dads find crowd-pleasing buys, we organized a taste test to find the top five, tastiest, store-bought pizzas."
The Shindigz team gathered insights from Moms and kids. Online friends chimed in with recommendations. While not a scientific survey, this list offers a sampling of what real people judged as their tastiest choices.
5) Jack's Pizza
Nothing brings out opinions like asking tween girls about their store-bought pizza choice. Jack's won this battle. The cheese was the key reason. While not fancy, young girls liked it and moms liked the price.
4) Trader Giotto's Pizza
Trader Joe's private label margherita pizza received support as the best Italian-style pizza. It's an imported taste from Italy.
3) Newman's Own Thin and Crispy Pizza
Even though Newman's Own is a newcomer to the frozen pizza market, their thin crust was singled out for being very good when baked according to directions (425 degrees for 10-12 minutes). One commenter stated, "When done, it looks like the picture on the package and tastes good."
Tie for 1st Place- DiGiorno Pizza and Freschetta Pizza
These market-leading frozen pizza makers were often named together as favorites. They earned the top spot in this casual survey. Mentions of their crusts and varied flavor combinations set these two pizza makers apart from the rest.
About Shindigz
Host a pizza party this summer. Sample each frozen pizza from the list and vote for your favorites at the Shindigz party ideas blog. Since 1926, Shindigz has "made life more fun" for 22 million events through the manufacture and sale of personalized party supplies. Shindigz ships products from its facilities in South Whitley, Indiana across the United States and around the world to 59 countries. With more than 34,000 products, Shindigz provides customers with the complete party solution.