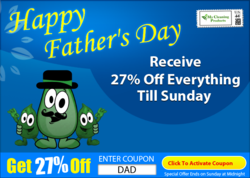 Both homeowners and cleaning contractors can benefit from all of MCP's cleaners.
Miami, FL (PRWEB) June 16, 2012
Many downplay the role of cleaning products in home maintenance. However, a simple mistake of buying the wrong cleaners can hurt a household in more ways than one can think. It can produce an unsafe indoor environment and can ruin a family's monthly budget. To avoid those, MyCleaningProducts.com created a line of green cleaning products that can deliver safe, effective and affordable cleaning processes. And to laud the coming Father's Day, the company is now offering them with a discount of 27% percent.
Cleaning is a daily routine and takes a lot of work and time to complete. To make its steps easier and to speed up the process, cleaning products are needed. The problem is that many tend to purchase the wrong cleaners.
As a result, though many homes look clean, they still cause health problems. In other cases, homeowners need to repeat the processes before satisfactory cleaning results are attained. Because of those, health and home maintenance expenses are increased.
Wanting to help solve those problems, MyCleaningProducts.com suggests the use of green cleaners. And excellent green cleaners are what it offers as it infuses wellness in them.
Discover How MyCleaningProducts Infused Wellness With Its Cleaners
With its green cleaning products, MCP said that homes are made clean and safe. Their formulations are effective in clearing the grime, dirt and stains that they are supposed to clean. And because they are all made of natural ingredients, they do the cleaning without exposing anybody to harmful chemical ingredients. That eliminates any risk that can cause allergies, coughing, sneezing or any health problem, it added.
Among the products that the company provides is Rusterizer for rust removal. It also offers Molderizer and Safe Shield for mold remediation and prevention. For pest-control, Bed Bug Bully and Silverfish Bully are two of its spray solutions.
See the Complete List of MCP's Green Cleaners
Both homeowners and cleaning contractors can benefit from all of MCP's cleaners. Homeowners can cut down their expenses with the use of the company's green cleaning products. On the other hand, contractors can have a green edge over their competitors. With the products, they can provide cleaning services that impress clients and also benefit the environment. And with the reduction of labor cost as they make cleaning faster and easier, that 'green edge' equates to bigger profit.
However, apart from the exceptional cleaners, the MyCleaningProduct also offers its clients an opportunity to help others. As its way of giving back, with every purchase of its products, it donates an amount to the Salud and Musica Foundation for the building of a school for the unfortunate children.
For its clients, MCP also has something more than green cleaners to offer. Every now and then, it gives specials deals with big savings. And for Father's Day, it got something big to give to honor all the dads in the world – a 27% price cut on all of its green cleaning products until Sunday.