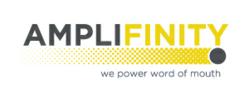 We have great synergy with Pursway and our partnership is going to boost our clients' abilities to get ahead in the social space. Dick Beedon, CEO, Amplifinity
Ann Arbor, MI (PRWEB) June 15, 2012
Amplifinity, creator of AMP, the Advocate Management Platform, today announces that they have added Pursway to their growing list of partners. Amplifinity's new Partnership Program is quickly assembling the leading innovators in Word of Mouth and Brand Advocacy marketing and combining their capabilities to create the world's most powerful technology and services offering in the space. Pursway's Big Data Influencer Marketing Management Solution enables organizations to identify customers who influence their friends' and families' purchasing behavior. Amplifinity will target these special customers with programs designed to generate new revenue, increase loyalty, and profitability.
"We found Amplifinity to be a perfect match for Pursway's solution," said Ran Shaul, EVP and co-founder of Pursway. "While Pursway identifies influencers who can drive new customer acquisition and increase sales, Amplifinity provides a complete solution for social enterprises to mobilize those influencers to drive sales and marketing initiatives both online and offline, and brand advocacy programs that enable companies to utilize these influencers' power."
Pursway uses their proprietary algorithms to integrate the power of influencer marketing with their clients' CRMs. Amplifinity will provide a referral program with a full range of integration. Amplifinity's platform creates a data set that provides clients with powerful information about who their advocates are, and what their social graph and reach is. Then, Amplifinity creates highly intuitive social programs that can be integrated with existing systems to reach customers and mobilize them.
Dick Beedon, Founder and CEO of Amplifinity, said, "Pursway does important work for their clients. Their software consistently identifies and caters to a company's influencers, and they have a significant impact on how these people affect purchasing decisions. Amplifinity's technology mobilizes and monetizes those powerful networks. We have great synergy with Pursway and our partnership is going to boost our clients' abilities to get ahead in the social space."
About Amplifinity
Amplifinity is the Brand Advocacy pioneer and has consolidated the most effective Word of Mouth Marketing/Brand Advocacy methods into a powerful platform that allows companies to activate, nurture and grow their advocate base. Headquartered in Ann Arbor, MI, the company is backed by leading investors such as Early Stage Partners and RSVP Capital. Amplifinity is a proud member of the Word of Mouth Marketing Association (WOMMA). Information about Amplifinity can be found at http://www.amplifinity.com.
About Pursway
Pursway empowers consumer-facing organizations to close the gap between how they market and how people buy. The Pursway patent-pending technology enables companies to identify, measure, and impact how opinion leaders shape their followers' purchasing decisions. Using Pursway's big data analytical solutions, leading global organizations in telecommunications, retail, and financial services are realizing 5-10x improvement in the ROI of customer acquisition, cross-sell, and churn prevention efforts. http://www.pursway.com