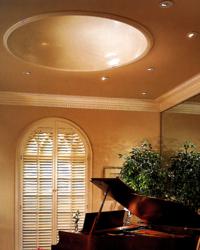 Outwater's Ceiling Domes are designed to address and accommodate the challenges often encountered when installing large, dimensional objects in new and existing construction and renovation applications.
Bogota, NJ (PRWEB) June 19, 2012
In addition to its currently offered collections of Designer's Edge Millwork and Orac Decor® Ceiling Domes, Ceiling Medallions and other products for new and existing residential and commercial ceilings, Outwater [Outwater Plastics Industries, Inc. + Architectural Products by Outwater, LLC] has just expanded its existing compilation of Ceiling Domes with the introduction of two new lines as follows:
Fiberglass Round and Elliptical Domes: Outwater's new series of Fiberglass Round and Elliptical shaped Domes are available in a variety of rimmed and rimless designs, and are offered in popular diameters and depths for use in a wide range of applications. For added ornamentation, Outwater's Domes are designed to accept supplementary center ceiling medallions up to 24" in diameter if desired for use.
Domes with Integrated Light Cove: Specifically designed with an incorporated light cove, which when utilized in conjunction with either Outwater's or any other manufacturers Lighting Products, enables you to create indirect illumination that produces an ambiance comparable to the soft glow of a candle. Manufactured of lightweight fiberglass, Outwater's Domes with Integrated Light Coves are not only easy to install, they can be further decoratively augmented through the addition of center ceiling medallions up to 20" in diameter.
Intended to add beauty and refinement within any environment, Outwater's Domes are available in both "one step" surface mounted and recessed installation formats, and feature one-piece construction integrating the Domes with their peripheral trim for a seamless fit and finish.
When used alone, Outwater's Domes will completely transform any nondescript ceiling into an exquisitely cultivated center of attention. However, by merely drilling through their centers, Outwater's Domes can also be readily adapted for use with chandeliers or other lighting fixtures.
Unlike cumbersome plaster domes, which are heavy, fragile and difficult to install, Outwater's Domes are produced of lightweight, extremely durable high-density polyurethane or fiberglass, enabling them to be readily handled and affixed using the same tools as wood. Impervious to adverse climate and weather conditions, not to mention their dimensional stability, Outwater's Domes will not alter over time, and because they are factory primed, they are ready to be painted, glazed or faux finished the same day as installation.
About Outwater Plastics Industries, Inc. + Architectural Products by Outwater, LLC:
Outwater Plastics Industries, Inc. + Architectural Products by Outwater, LLC can be contacted Toll Free at 1-800-631-8375 (For sales and product information in the USA & Canada) / 1-201-498-8750 (For sales and product information outside of the USA & Canada) or viewed online at http://www.outwater.com
From the vendor of a single product in August 1972, Outwater Plastics Industries, Inc. + Architectural Products by Outwater, LLC, with sales and distribution facilities in New Jersey and Arizona, are recognized today as well established international manufacturers and stocking distributors of more than 65,000 standard and innovative component products required by woodworkers, cabinet and furniture manufacturers, builders, remodelers, designers, architects, point-of-purchase and display fixturing manufacturers, OEM's, as well as a very diversified range of other commercial and retail end users.
Major Product Categories include Plastic & Aluminum Extrusions; Lighting and Lighting Accessories; Furniture, Cabinet & Store Fixture Components; Knobs & Pulls; Casters; Fasteners; Laminates; The FOGA Exhibit & Display Fastening System; The Klem Connector; Literature Displays; Slatwall; Sign Holders; P.O.P Components; Display Motors & Turntables; Pedestals; Injection Molded Parts; Brass Tubing & Fittings; Surfacing Materials; Interior & Exterior Polymer & Wood Architectural Mouldings & Millwork; ORAC DECOR and DEM Architectural Mouldings & Millwork; Columns & Capitals; Balustrading; Wrought Iron Components; Decorative Stamped Steel & Polymer Ceiling Panels; Wainscoting; Wall Coverings; Fireplace Surrounds; Plastic "Glass" Block; Plaster Architectural Elements; Period & Contemporary Hardware; Kitchen & Bath Accessories; Kitchen & Bath Cabinetry and Vanities… and so much more!
Contact:
Joey Shimm, Director of Marketing
Outwater Plastics Industries, Inc. + Architectural Products by Outwater, LLC
(201) 498-8750
###