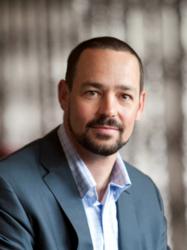 "David has shown incredible dedication to the organization and is an integral part of the continued growth and success of SRG."
- Peter Karpinski
Denver, Colorado (PRWEB) June 14, 2012
Sage Restaurant Group (SRG), the Denver-based independent restaurant group dedicated to creating experiences where food, drink and inspired design meet and mix, today announced the internal promotion of David Marsh to the role of Senior Vice President of Operations.
Joining Sage Restaurant Group in 2009 as the General Manager of Food and Beverage Operations for the company's Portland-based Urban Farmer and Departure restaurants at The Nines hotel, Marsh brings more than 20 years of restaurant industry experience to his newly appointed role. As a General Manager, Marsh earned a reputation for excellence while overseeing the successful operations of both unique concepts, receiving recognition as an SRG "Leader of the Year" in 2011.
As Senior Vice President of Operations, Marsh will direct food and beverage operations for Sage Restaurant Group's ten distinct restaurant properties: The Corner Office Restaurant + Martini Bar and Second Home Kitchen + Bar, in Denver, CO; Kachina, Southwestern Grill in Westminster, CO; Temple Downtown in Providence, RI; the acclaimed Mercat a la Planxa in Chicago, IL; Braddock's in Pittsburgh, PA; and Urban Farmer Steakhouse, the Original Dinerant and Departure in Portland, OR.
In this role, Marsh will lead property teams in the development and execution of revenue-generating food and beverage programs while consistently exceeding expectations of SRG's discerning clientele. In addition to business and guest-base growth, Marsh will be responsible for overseeing in-room dining and catering operations for all SRG restaurants, all located adjacent to hotels, as well as talent management, team building, and personnel development.
"It's an honor to welcome longstanding Sage Restaurant Group team member David Marsh to our Denver corporate office as he joins the executive team as our new SVP of Operations," said Peter Karpinski, Co-Founder and Chief Operating Officer of Sage Restaurant Group. "David has shown incredible dedication to the organization and is an integral part of the continued growth and success of SRG. His proven strategic execution and leadership abilities are sure to add great value to all of our operations in this role."
A graduate of Brigham Young University, Marsh held numerous other hospitality leadership roles before joining SRG in 2009, including management positions at South Lake Tahoe's iconic Riva Grill and various properties within the Morton's Restaurant Group umbrella.
About Sage Restaurant Group
Sage Restaurant Group creates experiences where food, drink and inspired design meet and mix. These independent restaurants, adjacent to hotels, deliver exceptional catering and in-room dining experiences. Wherever they are located, Sage Restaurant Group's concepts feature a distinctive scene and a subtly infused local vibe designed to appeal to a guest who is hungry for life. For more information, please visit http://www.sagerestaurantgroup.com.
###