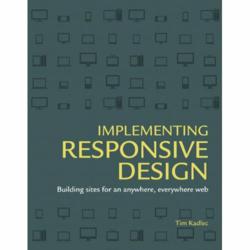 Three Lakes, WI (PRWEB) June 15, 2012
Responsive web design is quickly becoming the go-to method for developing mobile-first websites. Pioneered by Boston developer Ethan Marcotte, responsive web design, or RWD, has been openly recognized by Google's Webmaster Central as a recommended programming method for building smartphone optimized sites.
Implementing Responsive Design, a new book by Tim Kadlec, explores the way we design, build and think about the web. Readers will learn how to adopt a responsive workflow from the onset of projects, and in turn build responsive sites utilizing a combination of fluid layouts and media queries to create enhanced content that is device-specific.
Weighing in at 288 pages, Implementing Responsive Design is a thorough and useful resource for any enterprise looking to concentrate efforts on a responsive-driven mobile strategy. Pre-orders are available online now at resellers like Amazon and the book's publisher, Peachpit/New Riders. For additional information on the book, please visit http://www.responsiveenhancement.com.
About the Author: Tim Kadlec is a web developer with a propensity for efficient, standards-based front-end development. His diverse background working with small companies to large publishers and industrial corporations has allowed him to see how standards-based development can be effectively utilized for businesses of all sizes. Tim is co-founder of Breaking Development (http://www.bdconf.com), the leading North American conference discussing web design and development for mobile devices. Tim currently resides in Three Lakes, Wis., with his wife and daughters. He writes about a variety of topics at http://www.timkadlec.com.