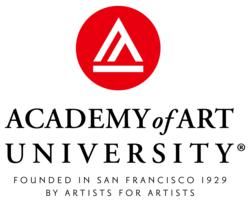 "This is a once in a lifetime opportunity for students to work together with their peers around the world on real projects with guidance from industry leaders." - Academy of Art University President Elisa Stephens
San Francisco, California and Stockholm, Sweden (PRWEB) June 18, 2012
Today, the Academy of Art University, the largest private school of art and design in the United States, and Berghs School of Communication, based in Stockholm, announced the launch of an international collaboration that provides students from both Universities with a unique opportunity to work on real-world creative projects with industry professionals in the San Francisco Bay Area this summer. The program brings together students from multiple disciplines, including Graphic Design, Advertising, and Web Design/New Media, and provides them with a unique opportunity to learn about all aspects of the creative process directly from industry professionals. The program starts today in San Francisco and will conclude on August 10, when students will exhibit their completed projects from the session.
Academy of Art University President Elisa Stephens said, "This is a once in a lifetime opportunity for students to work together with their peers around the world on real projects with guidance from industry leaders. Not only will students leave this program with hands-on experience, but they will get a real feel for the pressures and challenges that creative firms and executives face everyday in meeting deadlines and producing impactful work. We are very excited about partnering with the prestigious Berghs school and welcome their students and staff to the great city of San Francisco this summer."
A class of 25-30 students, half from Berghs and half from the Academy, will be divided into teams of five, where each student will have a specific role as a Project Director/Manager, Strategist/Planner, Copywriter, Art Director, Web Designer, Interactive Designer, or Graphic Designer, depending on project needs.
The semester is broken into two projects with the first focusing on international marketing, planning, and cultural diversity – and using a real-life communications case for a local start-up as a base for learning. Students will make a real agency pitch and create strategic plans for an international communication challenge targeted at a diverse audience. The second project, which involves technology industry leader Adobe, covers the entire communication spectrum – from insight and strategy to execution and presentation, following a five-step model from real-life agency work. The students will work on a real-life project for Adobe and at the end present their solutions before their client and instructors.
"We are thrilled to provide our students with an opportunity to learn from the industry leaders right here in San Francisco," said Camilla Wallander, CEO of Berghs School of Communication. We have always believed that teamwork and collaboration leads to the most creative work and we are looking forward to seeing what students from thousands of miles away come together and produce this summer."
For more information on the summer program, visit http://www.berghs.se/content/berghs-co-academy-art-university.
About Berghs School of Communication
Berghs School of Communication offers strategic and creative educational programs within marketing communications at several levels and formats. We offer Professional Diploma Programs and an International Bachelor Program for full-time studies, more than 80 part-time courses, and customized programs for corporate clients. Every year about 3000 people study at Berghs in one type of program or another, either in Sweden or abroad. An additional 3000 guests attend our inspirational seminars. Berghs School of Communication is located in central Stockholm, Sweden, and is owned by the Norwegian corporation Anton B. Nilsen, which also runs several other schools, among them Westerdals School of Communication and NITH University in Oslo.
About Academy of Art University
Academy of Art University, the largest private university of art and design in the United States, is educating students for the art and design jobs of the 21st Century. Established in 1929, the Academy is an output-based higher education model that provides open admissions to all students, but imposes a rigorous curriculum that requires the students to produce a portfolio of work that demonstrates a mastery of their field in order to graduate. Students are taught by a faculty of professionals from the existing marketplace, which provides them with an understanding of what it takes to succeed in today's business environment. The Academy's hands-on curriculum produces graduates that possess great artistic and design skills -- and equally as important, the ability to put those talents to work immediately after graduation. As a result, Academy graduates are ready to compete for and win the jobs of the 21st Century in the fields of Acting, Advertising, Animation & Visual Effects, Architecture, Art Education, Fashion, Fine Art, Game Design, Graphic Design, Illustration, Industrial Design, Interior Architecture & Design, Landscape Architecture, Motion Pictures & Television, Multimedia Communications, Music Production & Sound Design for Visual Media, Photography and Web Design & New Media. Academy of Art University is accredited by WASC, NASAD, Council for Interior Design Accreditation (Formerly FIDER), (BFA-IAD), and NAAB (M-ARCH). Visit http://www.academyart.edu for more information.
##