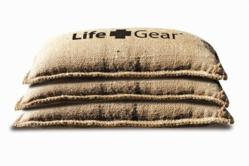 Destin, FL (PRWEB) June 16, 2012
The unprecedented amount of rainfall recently received in Pensacola and Escambia County Florida was a wakeup call for protection of property located in flood prone areas. Many homeowners experienced losses due to the lack of any flood barrier preparation. Although it may be difficult to prevent damage from 8 feet of water, most flooding does not exceeding 3 feet which can be stopped with proper barriers.
Sand bags are usually the first line of defense. Having a stack of sandbags in front of lower openings in the home, including doors and vents, will stop water seepage through these openings and cracks as well as stopping the pressure of the water from breaking a door or vent. There is no limit on how high you can stack sandbags to block approaching flood waters. As long as there is an ample supply of bags and sand this method works perfectly.
Most people don't stockpile sandbags because of the size and weight, but there are a few 21st century alternatives.
Life Gear and Absorbent Specialty Products manufacture "sand-less" bags filled with water absorbing polymers. These bags (which weigh a few ounces and are the size of a pillowcase) will expand to the size and weight of a standard sandbag when immersed in water. This product will store indefinitely and is biodegradable after use.
Another alternative water barrier is the HydraBarriers. This product consists of durable plastic bags filled with water which can be used as a water barrier in front of entry ways or garage doors. These are available in 4" and 6" diameters. They are useful in stopping low level flooding up to the top of the bag. The best part of this product is that it stores collapsed (similar to a blow-up pool toy) and is reusable.
Disaster Relief Supply recommends flooding preparation as US coastal cities and towns enter the summer storm season. Hindsight doesn't help in protecting valuable property.