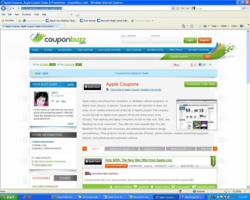 The computer industry has grown with astonishing rapidity over the last 30 years.
Houston, TX (PRWEB) June 15, 2012
Consumers today can plan on a new laptop costing them at least $500, and usually significantly more. High tech gadgets cost high amounts of money, that's the way the equation works. However, a recent Toshiba coupon featured by CouponBuzz.com is placing a whole new spin on the game by cutting the cost to their base-line laptops by almost 50%. Now, for a limited time, online shoppers can save $240 dollars off the standard retail price of a Satellite C650D-BTFN11 laptop, leaving the final price tag at a shockingly low $329 dollars! The new Toshiba coupon for $240 off is located in CouponBuzz.com's recently launched section dedicated to Toshiba coupons and special offers.
"The computer industry has grown with astonishing rapidity over the last 30 years, said CouponBuzz.com founder Justin Bowen. "In 1982 computers were room-sized, billion dollar investments. If you could go back in time and tell one of those early computing pioneers that more, better, faster computing power would be available in 2012 for just $329 dollars – weighing less than 3 pounds in a completely portable format- they might internally combust. Than again, they might not. Those guys seemed to have an uncanny grasp of the miracles technology was capable of creating."
Follow this link to discover all of the additional special offers available from Toshiba on CouponBuzz.com today. The Toshiba Satellite C650D-BTFN11 laptop highlighted today with the Toshiba coupon for $240 off standard retail pricing has a 15.6 inch screen and a 320G hard drive. It also comes standard with 4G of memory, and AMD Radeon HD graphics card, and a numeric 10-key pad. Consumers can choose between a AMD E-series Processor, a Intel Celeron Processor, or a Intel Core i3 Processor.
Essentially, the Satellite C650 is a basic laptop that fulfills every computing need at a fraction of typical retail cost, especially using this particular limited time offer. All of the technical details about the Toshiba Satellite C650 can be found via the link to the special offer in the Toshiba coupon section at CouponBuzz.com, located here http://couponbuzz.com/toshiba-direct-coupons.html.