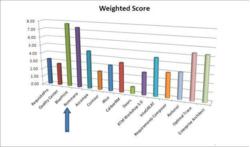 The reason that Rommana received such high score compared to other requirement tools is the fact that Rommana supports superior set of functionality that help projects of all sizes adopt best practices in requirements management
Minneapolis, Minnesota (PRWEB) June 16, 2012
The study compared sixteen leading requirement tools against industry standard. The complete analysis is published here.
"Although we are very pleased with result of this analysis, we should note that Rommana is not only a Requirements Management tool. Rommana is a fully integrated Application Lifecycle Management system and a set of methodologies," says Magdy Hanna, CEO of Rommana Software and Chief Architect of Rommana methodologies and tools. Nevertheless, the full Rommana Global license sells at half of the price of any standalone requirement tool in the market.
Rommana methodologies and tools enforce best practices in each of the following functions:
1. Requirements Management
2. Test Management
3. Project Management
4. Use Case Management
5. Issue Management
6. Change Management
7. Release and iteration Management
8. Collaboration Management
9. Documentation Management
Requirements Management is the backbone of Rommana methodologies and tools as all other artifacts and activities supported by the rest of the Rommana components are traced back to requirements. "The reason that Rommana received such high score compared to other requirement tools is the fact it supports superior set of functionality that help projects of all sizes adopt best practices in requirements management," adds Dr. Hanna.
Some of the Requirements Management features supported by Rommana are:

Importing requirements from Excel and Word documents
Collaborative review of requirements
Requirement versioning and baselining
Relationships between requirements
Using formal models to elaborate on requirements
Full Use Case support
Developing and maintaining scenarios to elaborate on requirements and to design tests
Enhanced Burn-Down charts and reports for agile and non-agile projects
Defining tasks and actions for requirements to enable Requirements-Based Project Management®.
Defining risks for requirements to enable Risk-Based Project Management
Product and Release backlogs for agile projects
Tracing requirements to code modules in TFS and SVN
Linking requirements to bug reports in Jira
Complete bidirectional traceability between requirements and scenarios, Use Cases, test Cases, Ad hoc Tests, and issue reports.
For information:
Telephone: (877)566-5111
Email: info(at)Rommanasoftware(dot)com
http://www.rommanasoftware.com/requirement-tools.php