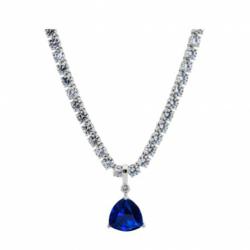 Gathering support for museums such as the Haggerty are key in ensuring that future generations have these skillful works of art to study and learn from
(PRWEB) June 15, 2012
On June 19, 2012 the Friends of the Haggerty Spring Benefit is being held in Milwaukee's historic Third Ward to raise money for the Haggerty Museum of Art. Diamond Nexus is part of the charity event, donating several elegant eco-friendly diamond simulant jewelry items to be used to generate funds for the museum.
At the benefit, Diamond Nexus employees will be running a "Diamond Toss" game where people can throw diamonds into holes on a game board. Those who are successful will be entered to win one of three prizes: The Orion necklace, Crystal Rain bracelet and the Leto earrings.
"Diamond Nexus is very excited to be part of such a worthwhile charity fundraiser. We know that the guests will enjoy the game that we have created and in case anyone is wondering, the diamonds that we are using are of the foam variety," said Brianne Smith, Director of Retail.
"Supporting the arts is crucial for inspiring creative thinkers and creating well rounded adults. We especially appreciate the Haggerty Museum for its valuable educational programs that aid the youth of Milwaukee. The museum's vast collection of permanent artwork includes pieces from the Renaissance era through modern times. A couple of my personal favorite artists include painter Marc Chagall and photographer Ralph Steiner," commented Jennifer London, Social Media Coordinator. Besides the permanent collection, the museum offers traveling exhibitions that encompass everything from sketches to photography, print and portraits.
"Gathering support for museums such as the Haggerty are key in ensuring that future generations have these skillful works of art to study and learn from," stated London.
The Haggerty Museum of Art is located on the Marquette University Campus, in Milwaukee, WI. The Haggerty acts as a teaching museum, providing pioneering exhibitions and programs for Marquette and the Milwaukee community.
Exhibitions range from avant-garde photography and prints to the works of Old Masters. They offer free arts education programs in the schools and at the museum through their collaboration with local educators, College of Education faculty and students. The Haggerty is open seven days a week and admission is always free.
Diamond Nexus was founded in 2004 with the purpose of bringing to the public the powerful benefits of the lab-created diamond simulant revolution. They have over 250,000 customers worldwide that have awarded them an "A+" rating with the BBB, and are the ninth largest online jewelry retailer in America according to the 2011 IR500 list. For two years in a row brides from The Knot have selected them as their Best of Jeweler. Diamond Nexus currently has two retail locations: their flagship store at Woodfield Mall in suburban Chicago, Illinois, and a second store at Mayfair Mall in Milwaukee, Wisconsin. In 2009 the company was named the official jeweler and crown maker of the Miss Universe Organization as part of NBC/Universal's "Green is Universal" environmental initiative.