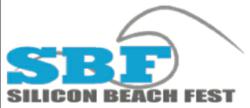 Los Angeles, CA (PRWEB) June 15, 2012
Silicon Beach Fest announced its speaker lineup today, including top CEOs, founders of leading incubators, startups, entertainment companies. Speakers will discuss how startups, tech and Hollywood are working together to create new companies, and using digital and social media tools and celebrity influence to market content and startups at the conference in Los Angeles on June 21-23.
Speakers and moderators are from companies including: VCs and investors (Rustic Canyon, Rincon, Siemer & Associates), incubators / accelerators (StartEngine, Amplify, Launchpad, MuckerLab), entertainment (Sony Pictures, Live Nation, The GRAMMYs, etc.), advertising (OMD, Ignited, Deutsch, engage:BDR), press (Forbes, Investor Business Daily, LA Business Journal), startups (Viddy, PromoJam, Pose, Honest) and more.
The three-day conference is the first of its kind, created by, organized by, and featuring local companies and startups to celebrate the ecosystem of tech, startups and entertainment that is unique to LA. Panel topics focus on incubators, VCs, startups, entrepreneurship, and small business, as well as art, content, fashion, retail, action sports, and social good. Similar panel topics are co-located at Hubs including: Hollywood, Startup, Social Media, Branding / Advertising, Community, and more.
Additional fest highlights include a demo day, angel pitch day, student pitch competition, hackathon with more than $50K in prizes and top CTO judges, startup village booths, workshops, networking events, and more. Most of the events will take place at venues in the beach neighborhoods of Santa Monica and Venice.
Digital LA, the largest digital entertainment networking group based in LA, is spearheading the Silicon Beach Fest, presented by engage:BDR. Partners and speakers represented include: accelerators (StartEngine, Amplify) and local companies including PageWoo, PromoJam, TechZulu, and venue hosts including Google's new Venice campus, Cross Campus, Coloft, CoWorks, io/LA, Working Village, Hotel Erwin and the Viceroy Hotel.
"We're headed to the beach – Silicon Beach – on the first weekend of summer to celebrate digital innovators in LA," said Kevin Winston, CEO and founder of Digital LA. "Several accelerators and startups have popped up in LA over the past several months, and many leverage Hollywood celebrity to stand out. Plus many studios and entertainment companies are using digital and social tools built by startups to promote their movies, music and web content."
'Silicon Beach' has been popularly used to refer to the growing tech startup community in LA, where activity is predominantly located in the beach neighborhoods of Santa Monica and Venice, and extends to Hollywood, Downtown and Pasadena.
More details on speakers, panels and events are located at http://siliconbeachfest.com
Digital LA is the largest digital entertainment professional group based in LA, organizing panels and mixers that let industry experts share their success stories around the digital creation, development, marketing and social media for movies, web series, TV, music, games, and VFX. Digital LA is spearheading the Silicon Beach Fest. http://digitalla.net @DigitalLA
Amplify is a startup accelerator designed to help members amplify their companies for success. Amplify.LA's investors, mentors and management include some of the most connected names in media and entertainment. Amplify.la @amplifyla
Coloft is a member based community and work pace for entrepreneurs, startups, and other independents, based in Santa Monica. Coloft hosts many startup community events including Startup Weekends, hackathons, and more. Coloft.com @coloft
Cross Campus is a new collaborative workspace for entrepreneur members to share ideas, including a workspace, a library, a classroom to increase knowledge and skills, and a faculty of passionate mentors and instructors to help guide its members. CrossCamp.us @CrossCampusLA
engage:BDR offers advertisers cutting-edge marketing solutions, advanced technology and custom programming by integrating display, video, and branded entertainment into a single network. engageBDR.com @engageBDR
PageWoo delivers simple solutions to enable the creation of rich mobile content paired with high conversion targeting technology. PageWoo.com @PageWoo
PromoJam is a leading enterprise Social Marketing Platform that provides businesses a full suite of tools to easily build, launch, track, and promote social media promotions across multiple social networks, both online and on the mobile phone. PromoJam is used by many of the biggest brands and artists in the world to reach new and existing customers including: NBC Universal, The North Face, Clear Channel Radio, Blackberry, Justin Bieber, Rihanna and Pearl Jam; PromoJam.com @PromoJam
StartEngine is a rapid accelerator that provides local startups with essential resources, mentors, and counsel needed to become successful businesses. StartEngine is created by Howard Marks, co-founder of Activision, and investor Paul Kessler. StartEngine.com @StartEngineLA
TechZulu is an independent news organization delivering an insightful story of the technology industry by showcasing the very people creating it. A pioneer in live Web television, TechZulu engages millions of viewers through real time reporting at conferences and its weekly news show, TechZulu Live. TechZulu.com @TechZulu
MEDIA CONTACT: Kelley Coughlan, Melrose PR, Kelley(at)melrosepr(dot)com, (310) 450-7960