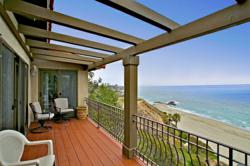 31425 S Coast Hwy will be available for a long term rental as of September 1st for the monthly rate of $14,000 a month
Laguna Beach, CA (PRWEB) June 19, 2012
(http://www.lagunabeachrealestate.com). A Prime Ocean Front home in Laguna Beach is now available for a long term lease. 31425 S Coast Hwy is located in the South Laguna area of Laguna Beach, California, and is just minutes from the 5 Star Montage Resort. The home sits directly on the bluff front with steps that take you directly down to the beach. If you are familiar with the Laguna Beach area then the home sits next to the famous Laguna Royale building on Coast Highway.
Summer time is here now and summer rental prices in Laguna Beach has gone way up as many Laguna Beach home owners rent out their homes by the week. The large majority Laguna Beach Ocean Front Rentals are vacation rental properties making it hard to find a long term rental here in Laguna Beach. 31425 S Coast Hwy will be available for a long term rental as of September 1st for the monthly rate of $14,000 a month. This is a great rate considering the weekly rate during the summer time is $5,500 a week! The home features three bedrooms with two levels of ocean front living. The decks off the bedrooms and main living area allow the cool ocean breezes to come through the home and let's enjoy the sandy beach and white water views. The home is completely gated at the top of Coast Hwy with a 2 car garage plus additional parking in the long extended driveway. Built in the Mediterranean style, the property features vaulted ceilings, hardwood flooring and custom moldings. From this location you are just minutes to many of the local restaurants and coffee shops in the area. If you have ever dreamed of living in Laguna Beach this is a grand opportunity.
For additional information on this home and Laguna Beach Properties make sure to contact Sam Smith at 949-355-1622. Sam specializes in Laguna Beach Real Estate and looks forward to assisting you.