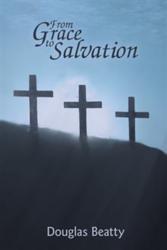 (PRWEB) June 18, 2012
BATTLE CREEK, Mich. – Written by a man who's read the Bible from cover to cover and worked to discover its meaning, the new book "From Grace to Salvation" (published by Abbott Press) is a testimonial to belief and an attempt to make the story of Jesus more accessible to readers.
"Today there are people who have turned from God not because they don't believe in him," author Douglas Beatty writes, "but because they just don't understand his words. I hope this book will change their hearts."
An excerpt from "From Grace to Salvation":
"From generation to generation the word had been passed down that a Messiah was coming to rule over them forever, and ever.
In this book we will read how God brought two people together to fulfill his promise to the Prophet's, to send a Messiah to change the hearts of man, and for man to be forgiven of his sins, forever.
Remember this as you go through life. With God nothing shall be impossible!"
Beatty was inspired to write "From Grace to Salvation" by his own experiences. "As a younger person, as with many I too put aside the Bible for lack of understanding. A few years back I picked up the Bible again. I still had a hard time with the terms, so I put it in a way that I could understand it and still get the true meaning that God intended."
Available in both paperback and electronic versions, "From Grace to Salvation" is available now at major online booksellers and http://www.abbottpress.com.
About the Author
Douglas Beatty was born in Texas in 1951. His father was in the Air Force; in 1963, his family moved to Hampton, Via., where they lived until Beatty's father retired in 1968. Later, Beatty joined the Marine Corps. He now lives in Battle Creek, Mich., with his wife, Barb; they have two children and five grandchildren.
Abbott Press, a division Writer's Digest—the oldest and most respected publisher devoted to the education and advancement of writers—is an indie-publishing imprint dedicated to helping writers bring their literary vision to print. Author Solutions, Inc., a leader in indie book publishing, will fulfill publishing, sales, and marketing services for Abbott Press. For more information, or to begin publishing a book today, log on to abbottpress.com or call 866-697-5310.