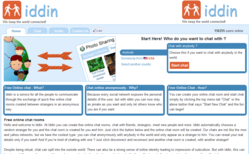 "People can now chat effectively with the new version of Iddin web chat tool."
Albuquerque, NM (PRWEB) June 15, 2012
Amidst the competition, Iddin Live has introduced a reliable application that specializes in random chatting. This tool is the result of numerous experiments and system upgrades over the course of eight months and more. The Iddin free chat application is also versatile enough to be used by people from different online communities. Adding to that, the Iddin development team continuously monitors the chat tool's connection speed.
Since the Iddin chat tool is under the premise of random chatting, many users refer to it as an online speed dating application. Basically, an Iddin user can connect to a stranger in just few seconds. One of Iddin's strong features is the privacy filter. Because of this, Iddin users don't need to log in or leave any personal information to the website. This feature has enticed a lot of users from different online communities, especially teens and adults. Strangers also have the option to upload their pictures in the chatroom. Unlike before, uploading pictures is now faster. The Iddin team has also observed that people who chat online with photos connect to more strangers often.
Iddin Live has been around for quite some time now—its team launching new backend updates every now and then. The purpose of these updates is to ensure that everyone will enjoy uninterrupted streams of online chat. Also, during the release of Iddin's early versions, the build-up of the chatter base is gradual. As the chat tool gathered enough connection speed, many users have started chatting through Iddin.
Iddin Live promises to deliver one hundred percent efficient communication for all of its users. One of the goals of the Iddin development team is to bring a renewed web chat experience for everyone. This is possible by adapting an even more dynamic business strategy comprising of software upgrades and developments. The Iddin chatrooms tool will remain on the freemium business model for many years.
About Iddin
Iddin is a free web application that specializes in generating random chat with strangers. Users can free chat and choose the locations of the strangers, or they can have the engine to search the whole world. Random chat is encouraged to protect the identity of people and also to empower spontaneous connection that is fun and interesting.