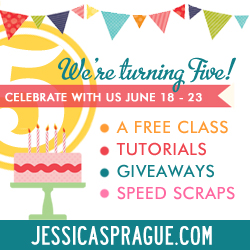 "It is hard to believe that we are about to celebrate being in business for five years" said Jessica Sprague. "We wouldn't be here if it weren't for our amazing customers. We can't wait to celebrate with them next week!"
Apex, NC (PRWEB) June 15, 2012
JessicaSprague.com, the leading website offering online classes and products for digital crafters, will be celebrating its 5th birthday with daily events beginning on Monday, June 18th and continuing through Saturday, June 23rd.
The birthday celebration events include:

A week long store wide sale of 40% off all digital products, 20% off all online classes and 20% off all Becky Higgins Digital Project Life.
Free Online Photoshop Class. The Photoshop Top 5: Five Techniques Everyone Should Know, will be taught by Jessica Sprague using daily video lessons. Pre-registration for the class is required by visiting http://bit.ly/JSCoupon and using the code PSTOP52012.
Birthday Contest: Contestants will enter by uploading a page that somehow incorporates the number 5 to the birthday contest gallery. Prizes include 5 Becky Higgin's Digital Project Life Kits, a 12 x 12 hardcover book printed by Simply Scrapping and the Grand Prize – a lifetime subscription to all classes taught by Jessica Sprague.
Blog Hops: Two blog hops will be hosted – one to for a series of tutorials from several JessicaSprague.com instructors and one to download pieces of a new, birthday mini kit from several designers.
Speed Scraps: Five speed scraps will be hosted on Thursday, one every three hours from 9 AM – 9 PM EST.
"It is hard to believe that we are about to celebrate being in business for five years" said Jessica Sprague. "We wouldn't be here if it weren't for our amazing customers. We can't wait to celebrate with them next week!"
About JessicaSprague.com
JessicaSprague.com is the leading website offering online classes and products for digital crafters. Founded in 2007 by world-renowned crafter, scrapbooker, instructor and author Jessica Sprague, JessicaSprague.com provides professionally designed, video-based online classes in Photoshop and Photoshop Elements for customers interested in learning about digital scrapbooking, photo editing, mouse-and-paper crafting, and more. The site's mission is to provide instruction, inspiration, and products to help people grow their skills, beautify their lives, and enhance their relationships with the people that matter most to them. The website's offerings include digital scrapbooking paper, digital brushes, digital element packs, lesson packs, weekly tutorials, and online classes in digital scrapbooking, mouse-and-papercrafting, photo editing, and more.