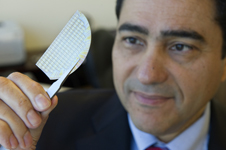 Boston, MA (PRWEB) June 18, 2012
Dr. Ahmed Busnaina, Director of the National Science Foundation Center for High-rate Nanomanufactuurig [CHN], will present a webinar entitled, "The Democratization of Manufacturing". The program will take place at 11 a.m. EDT on Wednesday June 27, 2012 and will be moderated by Sarah Boisvert of Greenwood Tech Strategies, LLC. The interactive presentation will describe how research in innovative nano-technologies and nano-processes at CHN is creating affordable nanomanufacturing tools for businesses, innovators, entrepreneurs, and students.
The Center's goal is to develop the technology necessary for industry to mass-produce high-quality nanoscale products that will become commercially viable much faster than the usual two-decade time frame. "The collaborative research partnership between the Center and industry is accelerating the development of nanotechnology-based products that can impact a number of industries, including healthcare, microelectronics, sensors and energy," said Ahmed Busnaina, director of the Center and William Lincoln Smith Professor of mechanical and industrial engineering at Northeastern. "Our research is developing more cost-effective, safe and highly reliable processes that can be scaled up for large-scale manufacturing."
Dr. Busnaina will address CHN innovation in the development of nanoplates to be used as tooling for an economically realistic production process. CHN hopes to construct self-assembling nano-building blocks over large areas in high-rate, scaleable, commercially viable processes such as injection molding and extrusion.
The NSF-funded Nanoscale Science and Engineering Center for High-rate Nanomanufacturing is a collaborative effort with core research partners Northeastern University's George J. Kostas Nanoscale Technology and Manufacturing Research Center, the University of Massachusetts, Lowell, and the University of New Hampshire.