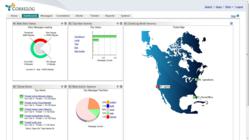 ...the only way to combat the threat is to be proactive and have a platform like ePO...
Naples, FL (PRWEB) June 18, 2012
CorreLog, the leader in software solutions for IT security event correlation, today announced integration between its IBM z/OS mainframe agent and the McAfee ePolicy Orchestrator (ePO) platform. The integration is highly applicable to financial services, retail/hospitality, health care, and government sectors that store massive quantities of credit card, HIPAA, or other compliance standards-related data (FISMA, NERC, Sarbanes-Oxley, etc…) in mainframe environments. IBM mainframe integration to ePO allows CISOs access to a wider swath of message log data at their fingertips to proactively manage cyber-threat and malware across their entire enterprises. A key component of the integration is the CorreLog z/OS Mainframe Agent which can convert critical SMF events (invalid logins and denied resource notifications) to Syslog in real time, straight into ePO. To minimize enterprise bandwidth, CorreLog correlates multiple mainframe events into a single event for passing over to ePO.
"Facebook, Twitter, University of Nebraska, Utah Department of Health, another attack at the US Department of Justice – these are just a small sample of the attacks in the past few weeks," said George Faucher, president and CEO of CorreLog. "Clearly the bad guys are out there on a mission, and the only way to combat the threat is to be proactive and have a platform like ePO for managing all threats across all systems, regardless of platform or device."
CorreLog is a certified McAfee ePO partner and has integrated its solution with the McAfee ePO security management platform using a software development kit (SDK), followed by comprehensive testing by McAfee. This integration allows organizations of any size to proactively monitor and manage IT security and regulatory compliance from a single console.
The CorreLog agent for IBM z/OS mainframe assures mainframe compliance with FISMA, PCI DSS, HIPAA, NERC, and Sarbanes-Oxley. It forwards security, RACF, ACF2, DB2, TCP/IP, job and database events to the ePO console and is compatible with all current releases of z/OS. The agent installs in just a few hours and uses just a few seconds of CPU time per day. For more information on the CorreLog IBM z/OS agent and its certified integration to ePO, please visit http://bit.ly/Ll0bOk.
About CorreLog:
CorreLog, Inc. is the leading independent software vendor (ISV) for IT security log management and event correlation. CorreLog's flagship product, the CorreLog Enterprise Server, combines log management, Syslog, Syslog-NG, SNMP, auto-learning functions, neural network modeling, proprietary semantic correlation, automated help-desk ticketing and reporting functions into a unique multi-platform security solution. CorreLog Enterprise Server operates across Windows, UNIX, Linux and mainframe platforms, shipping with an out-of-box PCI DSS compliant CorreLog agent for IBM z/OS, the world's most popular mainframe operating system.
CorreLog delivers an essential viewpoint via dashboard console, providing verifiable and actionable information on the activity of users, devices, and applications to proactively meet organizational SLAs and regulatory requirements. Additionally, CorreLog automatically identifies and responds to any suspicious behavior, network attacks, or policy violations by indexing and correlating user activity and event logs, then archives the data in an enterprise server system location. This allows customer organizations to quickly identify then proactively respond to compliance violations, policy breaches, cyber-attacks and insider threats. For auditing and forensics, CorreLog facilitates regulatory requirements set forth by PCI DSS, HIPAA, SOX, FISMA, NERC, NCUA, and many other standards. CorreLog markets its solutions through both direct and indirect partner channels.