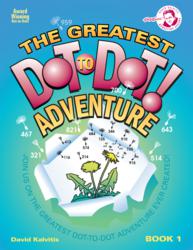 "The new book has two triple pagers, and one four page foldout with over 2,600 dots, my largest Dot-to-Dot to date,"
Rochester, NY (PRWEB) June 15, 2012
David Kalvitis, founder of Dot-to-Dot puzzle publisher, Monkeying Around, has once again raised the connect-the-dot bar even higher with his new Adventure series, The Greatest Dot-to-Dot Adventure Book 1. Available now at participating Brick and Mortar stores, the newest Adventure book will be fully released over the Internet at monkeyingaround.com and Amazon.com on June 15th.
As the 17th book in the Greatest Dot-to-Dot series, Kalvitis has added more story, more mystery, and never before seen puzzles containing foldouts, new puzzle styles, and clues that will help solve other puzzles. The variety of images that Kalvitis' Adventure books are known for are present throughout Adventure Book 1, along with a simple story line that follows an imaginative young boy searching for the missing pieces of a mysterious gift.
"Because of puzzle interaction and the story, I believe this new Adventure Book will feel even more interactive than ever before," says Kalvitis. "First of all, I've added a little story which I believe has never been done for an activity book of this type."
Puzzle solvers of all ages will enjoy the fun and challenges Kalvitis creates through his skillful utilization of dots to create complex, artistic works. The images of what the young boy sees "connects" as the story begins to unfold. In fact, the pages of Adventure Book 1 really do unfold when puzzle solvers challenge themselves to solve 2 triple page foldouts, and the 'Everest of Connect-the-Dots,' one jaw dropping 4 page foldout with a record breaking 2,600 dots.
"The new book has two triple pagers, and one four page foldout with over 2,600 dots, my largest Dot-to-Dot to date," says Kalvitis.
David Kalvitis will be personally appearing at Simply NY in his hometown Rochester, New York for book signings on June 16 from 12-2 p.m.
4364 Culver Road, Irondequoit, NY
Book Information
Title: The Greatest Dot-to-Dot Adventure Book 1
Author: David Kalvitis
ISBN: 9780979975325
Retail Price: $8.95 US
About Monkeying Around:
Monkeying Around was founded in 2000 by David Kalvitis. Kalvitis is a lifelong puzzle and game fan, has a Fine Arts degree from Syracuse University and operated a graphic design business in Upstate NY for 13 years. Since 2000, Monkeying Around has been dedicated to offering innovative dot-to-dot products that will delight and entertain children and adults of all ages. Monkeying Around produces "The Greatest Dot-to-Dot Books in the World," a challenging collection of unique dot-to-dot surprises and variations. The company also publishes "The Greatest Newspaper Dot-to-Dot Puzzles," pocket and travel sized collections of weekly syndicated puzzles, in the pages of USA newspapers. In 2007, the first of the "Greatest Dot-to-Dot Super Challenge" Books was introduced.
Contact:
David Kalvitis
PO Box 10131
Rochester, NY 14610
info(at)monkeyingaround(dot)com
800-553-4300