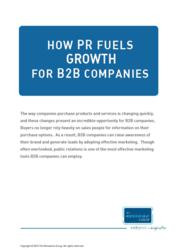 PR can be one of the unsung heroes in B2B marketing — put it to work for your company today!
Toronto, ON (PRWEB) June 18, 2012
The Mezzanine Group's newest white paper outlines how business to business (B2B) companies can fuel their growth through Public Relations activities.
Companies are changing the way they purchase products and services. Buyers are less reliant on sales people for information on their purchase options which presents an incredible opportunity for B2B companies. The white paper, called "How PR Fuels Growth for B2B Companies" outlines how B2B companies can leverage PR to raise awareness of their brands, generate leads and ultimately drive business growth.
"There are many B2B companies who are not taking full advantage of PR as a lead generation tool," says Lisa Shepherd, president of The Mezzanine Group. "This white paper will give B2B companies a step-by-step guide to creating compelling press releases, developing an effective distribution strategy and measuring the results of their PR efforts.
The paper can be downloaded from the Mezzanine website at: http://bit.ly/KpPUmm
About The Mezzanine Group
The Mezzanine Group is a Business to Business (B2B) Strategy and Marketing firm based in Toronto, Canada. For over a decade, Mezzanine has worked with mid-sized B2B companies to improve the function and performance of their marketing through market intelligence, marketing strategy and execution. Mezzanine has twice been named to the PROFIT 100, Canada's definitive list of fast growing companies.
For more information about The Mezzanine Group visit http://www.themezzaninegroup.com or contact us at (416) 598-4684 | info@themezzaninegroup.com.
Copyright (C) 2012 The Mezzanine Group. All rights reserved.