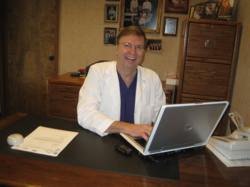 New Iberia, Louisiana (PRWEB) June 20, 2012
Local periodontist Murray L. Rabalais, DDS is now offering a number of cutting-edge gum graft treatments to patients with receding gums and other forms of periodontal disease. Millions of Americans are affected by periodontal diseases, conditions which can result in painful gums and an increased instance of cavities. The application of a graft to the gums is a straightforward procedure that takes place in Dr. Rabalais' office. These treatments feature healing time of as little as 48 hours and have a nearly 100 percent success rate.
The gum graft treatments currently offered by Dr. Rabalais include gingival grafts, pedicle grafts and coronal grafts. Each of these graft types make use of gum tissue already present, which causes a minimal disturbance to the teeth and gums surrounding the treatment area. This is a significant improvement over older forms of treatment. Traditionally, graft tissue was collected from the hard palate of the mouth, and while this was an effective treatment, patients were very likely to experience a high degree of post-operative pain. A long period of recuperation may have also been required after one of these older graft treatments. Thanks to the rapid recovery time associated with these new procedures, patients receiving grafts to treat receding gums are likely to experience less pain following the procedure, and they have a good chance of resuming normal activity soon afterwards.
In addition to offering procedures that treat oral health concerns, Dr. Rabalais also performs esthetic treatments to correct visible irregularities of the teeth and gums; these treatments also address the health conditions associated with these irregularities. The periodontal plastic surgery treatments available from Dr. Rabalais include esthetic crown lengthening and functional crown lengthening. An esthetic crown lengthening can be used to treat a "gummy" smile – where the gum line extends too far down the surface of the tooth. A functional crown lengthening may be performed in conjunction with other restorative or cosmetic treatments, often as a preparation for later crown or bridge work. Due to the nature of lengthening procedures, recovery time is longer than that associated with gum graft treatments.
The graft and lengthening procedures performed by Dr. Rabalais address both esthetic and medical concerns related to the health of teeth and gums. Advanced treatments decrease the necessary recovery time, and a high success rate makes them more accessible to patients. Dr. Rabalais and his team treat patients in both the Houma and New Iberia branches of his practice, Progressive Periodontics. More information on gum disease and the available treatments can be found on the Progressive Periodontics website at http://www.louisiana-periodontist.com.
Progressive Periodontics is a periodontal practice offering patients personalized dental care for Houma and New Iberia, Louisiana since 1980. Dr. Murray L. Rabalais graduated from Northeast Louisiana State College with a Bachelor of Science degree in Pharmacy. He received his Doctor of Dental Surgery degree from Loyola University in 1970. After serving in the United States Army he entered the LSU School of Dentistry for post-graduate studies in Periodontics and received his Certificate in Periodontics in 1980. Dr. Rabalais is part of one percent of dental professionals providing the most recent FDA cleared laser procedure for gum disease and periodontal treatment. To learn more about Progressive Periodontics and their dental services visit their website at http://www.louisiana-periodontist.com or call either office at the numbers listed below.
Houma, Louisiana: 985-231-5333
New Iberia, Louisiana: 337-376-0767