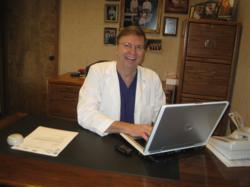 Houma, LA (PRWEB) June 17, 2012
Murray L. Rabalais, DDS is presenting the new LANAP laser gum surgery option to his periodontal patients. In the past, gum surgeries have been painful and invasive, but this newly available gum disease treatment offers patients a more comfortable option. Implementing the LANAP procedure in his periodontal disease treatment regimen, Dr. Rabalais can address the needs of his most reluctant patients.
The LANAP procedure does not rely on the use of surgical instruments or painful incisions to provide gum disease treatment; patients are treated with a very small light energy laser. The light energy is used to eradicate the diseased tissue and will also reduce the amount of bacteria present in the mouth. Tartar, which builds up above and below the gums, is removed from the roots of the teeth. After the removal of the harmful bacteria, the mouth, the teeth and the gums are able to heal and regenerate.
Due to concerns about the discomfort associated with traditional periodontal disease treatment options, many people find themselves postponing or avoiding altogether the necessary gum disease treatment. Their concerns about the loss of healthy tissue while diseased tissue is surgically removed can also influence their reluctance to seek adequate treatment. Some patients may hesitate so long that they risk the loss of their teeth.
Dr. Rabalais is now providing his patients with the gentler option of LANAP for their gum disease treatment. Dr. Rabalais' patients will appreciate the increased comfort of this innovative procedure and will benefit from the easier recovery. Those patients who were reluctant to seek treatment and who may have been avoiding a very necessary treatment regimen will be encouraged by the lack of incisions and surgical scarring of the FDA cleared procedure. Patients of the LANAP procedure also find that their recovery time is greatly reduced. Most patients are able to return to work or to their daily routine immediately after the completion of the procedure.
Progressive Periodontics is a periodontal practice offering patients personalized dental care for Houma and New Iberia, Louisiana since 1980. Dr. Murray L. Rabalais graduated from Northeast Louisiana State College with a Bachelor of Science degree in Pharmacy. He received his Doctor of Dental Surgery degree from Loyola University in 1970. After serving in the United States Army he entered the LSU School of Dentistry for post-graduate studies in Periodontics and received his Certificate in Periodontics in 1980. Dr. Rabalais is part of one percent of dental professionals providing the most recent FDA cleared laser procedure for gum disease and periodontal treatment. To learn more about Progressive Periodontics and their dental services visit their website at http://www.louisiana-periodontist.com or call the locations for more information. In Houma, LA, call 985-231-5333, and in New Iberia, LA call 337-376-0767.