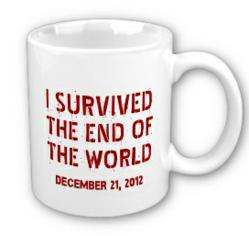 Great Way To Get Your Message Out on Collectable End of The World Promo Items
Atlanta, GA (PRWEB) June 17, 2012
Many prophecies including Nostradamus and Mayans have all spoke about The End of World occurring on December 21, 2012. Many bloggers have also added their own evidence to back on these prophecies. One blogger (Gerard Le Flamand) has added additional fact based information to further support these predictions. One thing for sure is this possible event has captured the attention and imagination of people all across the world. Therefore promotional products will be sought after for the lure and appeal as we get closer to 12-21-2012.
The Promo Shop line includes coffee mugs, flashlights, water filter bottles, freezer stick bottles, light sticks and many more that can be imprinted with slogans such as I survived end of the world 2012 or other clever sayings. Take a look at the coffee mug to the right for an example. Also their line consist of survival items such as: first aid kits, emergency flashlights, wind up radios, USB Universal Charger Kits, valuables holders, knives, backpacks, water filters, and pet id tags. John Gallagher says, "We can help any business create a 2012 promotional product survival kit suitable for any event or end of world parties".
The Promo Shop website is geared to help savvy marketer's promote their company message with items that people want to keep and use. "These promo items are perfect to use as a fun giveaway and or to provide a useful gift," says Mr. Gallagher. The site feature promo apparel that is moisture wicking and other embroidery items that can be used in a promotional campaign. One can use the backpacks to store getaway items and other survival gear.
John Gallagher, CAS (President of The Promo Shop) says; "Make your company stand out with a hot promo item that will be memorable and long lasting sales message. The right promotional product can be the right tool for successfully marketing your company," Gallagher adds.
About The Promo Shop
President and founder, John Gallagher, was president of the promotional industry regional association- GAPPP for 2 years and a Board member for 4 years. Whether it's for a business, school, sports group, or any other type organization; The Promo Shop has industry specific solutions for event marketing through case studies. Coordinate and decorate custom apparel, accessories or other promotional items, to make a great impression now and well into the future. Also call us for all your Promotional Products in Atlanta or anywhere in the USA and ask about our free shipping program.
The release was written and submitted by Click Ready Marketing a Georgia SEO Company